Prosper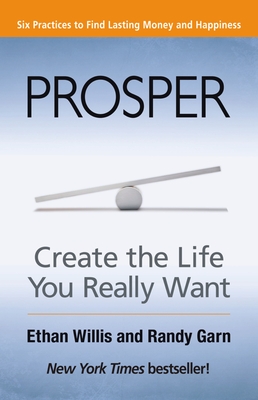 Prosper
Create the Life You Really Want
Berrett-Koehler Publishers, Paperback, 9781609940706, 134pp.
Publication Date: October 3, 2011
* Individual store prices may vary.
Buy Now
or
Shop Local
Enter your zip code below to purchase from an indie close to you.
Description
Ethan Willis and Randy Garn have helped tens of thousands of people find their own paths to prosperity. In Prosper they share the Six Prosperity Practices that enable you to create a personal plan for prosperity that is rooted in your deepest goals and aspirations—a plan that is sustainable over the long term. You will not simply succeed—you will truly prosper.
"Prosper is the perfect book for these uncertain times. You'll thank Ethan Willis and Randy Garn for their practical guide to your own path to achieving the life you want—and sustaining it. It's never too late to prosper!"
—Harvey Mackay, author of the #1 New York Times bestseller Swim with the Sharks Without Being Eaten Alive
"Ethan Willis and Randy Garn show that true prosperity is about more than just money. It's about living the life you want without ever having to drag yourself to work—because the way you make a living is in line with who you are. Most important, they provide practical exercises and action steps to help you achieve it."
—David Bach, author of the #1 New York Times bestseller The Automatic Millionaire and founder of FinishRich.com
"Ethan and Randy pack a lot of practical wisdom into a small book. They understand that money and happiness can go hand in hand but understand too that there is a lot more to the story. If you want to 'prosper from the inside out' and are ready to commit yourself to do so, read this book."
—Cynthia A. Montgomery, Timken Professor of Business Administration, Harvard Business School
"Ethan Willis and Randy Garn know that there's a lot more to prosperity than making money. Over the years they've helped tens of thousands of people find and achieve their true purpose and passion. If you're ready to live your values, do what you love, and truly prosper, study this book—and take action!"
—Ken Blanchard, coauthor of the New York Times bestsellers The One Minute Manager® and The One Minute Entrepreneur
"Prosper gives you the concrete steps you can take to align your life with the core of your being. Follow this plan and you'll be happy—and truly prosper."
—T. Harv Eker, author of #1 New York Times bestseller Secrets of the Millionaire Mind