Our Supreme Task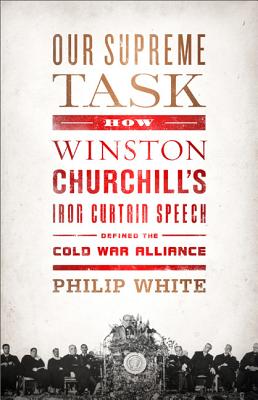 Our Supreme Task
How Winston Churchill's Iron Curtain Speech Defined the Cold War Alliance
PublicAffairs, Hardcover, 9781610390590, 289pp.
Publication Date: March 6, 2012
* Individual store prices may vary.
Buy at Local Store
Enter your zip code below to purchase from an indie close to you.
or
Not Currently Available for Direct Purchase
Description
The dramatic history of Winston Churchill's 1946 trip to Fulton, Missouri, where he delivered his speech warning of the dangers of communism and cemented his legacy
About the Author
Philip White's poems have won a Pushcart Prize and have appeared in the New Republic, Slate, Hudson Review, Southern Review, New England Review, Antioch Review, Poetry Daily, and elsewhere. He teaches Shakespeare and early English literature at Centre College in Danville, Kentucky.
Praise For Our Supreme Task…
Andrew Roberts, author of The Storm of War
"Winston Churchill thought his Iron Curtain speech the most important of a long and stormy career that was studded with vital speeches; it was certainly one of his bravest.  Philip White has recreated the eight months between the Potsdam Conference at the end of World War II and the world-changing events in Fulton, Missouri, with impressive scholarship, a sure narrative skill and a fine eye for telling detail."
John Lukacs, author of A New Republic: A History Of The United States In The Twentieth Century
"I read Our Supreme Task with considerable care and I recommend it emphatically. There is now an enormous literature about the Cold War but very little about how it actually came about and almost nothing about this address. This book fills the gap."
Nile Gardiner, Ph.D., Director, Margaret Thatcher Center for Freedom
"Philip White has lovingly produced a detailed yet eminently readable account of Churchill's speech in Fulton, Missouri, in 1946. White shows not only how the great British statesman crystallized in word and image the perilous divide between democratic west and communist east, but also how one speech defined an era, and how it continues to inspire today."
Kirkus Reviews
"The genesis, occasion and aftermath of what Winston Churchill unhesitatingly called 'the most important speech of my career'…. White fully reproduces the address and reminds us that Churchill's call for increased Anglo-American solidarity in the face of Soviet aggression was not particularly well received… Today, we remember it as 'one of the defining statements of the twentieth century.' White's at his best painting the small scenes in the background of the event: Churchill's construction of the speech as he sunbathed and painted, the whiskey and poker-fueled train ride with Truman to Missouri and especially the frantic preparations for the big day by Westminster and Fulton officials, including the charismatic college president who conceived of the long-shot invitation to a world figure who unexpectedly said yes. A small slice of history charmingly retold." 
Newark Star-Ledger
"[An] absorbing reconstruction of events leading up to Fulton's fifteen minutes of fame…. White shines a warm and winning spotlight on rural postwar America as he describes the hamlet's feverish preparation to host the leader." 
Commentary
"The background and analysis White offers are valuable." 
Washington Times
"In Cold War history, the Westminster speech is cited frequently as a seminal moment in the skein of events that dominated the world for the next half-century. From time to time, I wondered, 'Why Westminster? Was it simply because President Truman hailed from Missouri?' The story is far more complex, and it is related entertainingly by Philip White in a first book that marks him as a historian to be watched."