Wikileaks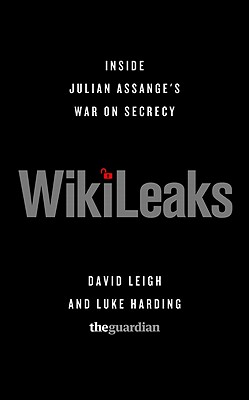 Wikileaks
Inside Julian Assange's War on Secrecy
PublicAffairs, Paperback, 9781610390613, 339pp.
Publication Date: February 15, 2011
* Individual store prices may vary.
Buy at Local Store
Enter your zip code below to purchase from an indie close to you.
or
Buy Here
Description
A team of journalists with unparalleled inside access provides the first full, in-depth account of WikiLeaks, its founder Julian Assange, and the ethical, legal, and political controversies it has both uncovered and provoked.
Praise For Wikileaks…
Mediaite, February 5, 2011
"While [The Guardian's] rendition of experience does not fail to leave out the requisite depiction of Assange as overbearing and paranoid, the overall tone of the story, rather than vengeful, is surprisingly self-effacing."
TechCrunch, February 12, 2011

"You can imagine, then, how delighted I was to receive a copy of the Guardian's new crash-published Wikileaks book and discover that it was all the things I wanted from the Times' book. And more… Indeed, while 'Wikileaks: Inside Julian Assange's War On Secrecy' is many things – a thriller, a story of international diplomacy, a tale of greed and ambition and double-crosses; a comedy, a tragedy – above all it's a manifesto for the future of professional journalism…If Wikileaks is this generation's Watergate, then 'Wikileaks: Inside Julian Assange's War on Secrecy' might well prove to be its All The President's Men; educating a whole new generation of would-be reporters on the power and importance of the professional press." 
MacLean's, March 1, 2011
"Leigh's portrait of the WikiLeaks founder is at once affectionate and damning—a dry-eyed examination of the way celebrity can pervert a burgeoning ego."

Eurasian Review, February 4, 2011
"The novelistic lens serves an important purpose by painting a richer, more three-dimensional portrait of the people behind WikiLeaks and the controversies in which they became embroiled." 
Kaietur News, March 6, 2011
"Fantastic… a complicated story of the relationship between a man who is a fanatical political activist (Assange) with no formal journalistic training and no background in the media, and a group of esteemed, famous professional media practitioners." 
Irish Independent, March 19, 2011
"In unraveling the murky details, the book has also provided a rip-roaring narrative of secrets, tantrums, technological wizardry, personal betrayal and vengeance."
The American Prospect, June, 2011
"The best overview of the story as it stood in early 2011 is WikiLeaks: Inside Julian Assange's War on Secrecy…This is a gripping, spy-novel-paced recounting of how WikiLeaks, the Guardian, and the other major organizations managed a first-of-its-kind global news-breaking collaboration."