Spies and Commissars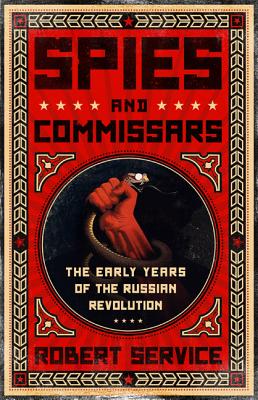 Spies and Commissars
The Early Years of the Russian Revolution
PublicAffairs, Hardcover, 9781610391405, 441pp.
Publication Date: May 8, 2012
* Individual store prices may vary.
Buy at Local Store
Enter your zip code below to purchase from an indie close to you.
or
Buy Here
Description
The dramatic story of the power struggle between the Bolsheviks and the West as the Russian Revolution eruptedand the characters from both sides who sought to affect the outcome
About the Author
Robert Service is a British historian, academic, and author who has written extensively on the history of Soviet Russia, particularly the era from the October Revolution to Stalin's death. Service is the author of twelve books, including the acclaimed "Lenin: A Biography"; "Stalin: A Biography"; and "Comrades: A History of World Communism." He is currently a professor of Russian history at the University of Oxford, a Fellow of St. Antony's College, Oxford, and a senior fellow at Stanford University's Hoover Institution.
Praise For Spies and Commissars…
Library Journal
"[A] well-researched, detailed, and thoughtful analysis of the Russian Revolution, here removed from the global vacuum into which it is often relegated…. Service is careful not to lose focus on the cultural, political, and economic weight that the revolution brought to a dispirited Russia…. [A] nuanced and important contribution to the history of the Russian Revolution. Readers of Russian and early Soviet history, both in and out of academia, will find it illuminating."
Kirkus Reviews
"Careful, dense scholarly study" that "paints detailed portraits of the revolutionary principals and their sometimes-surprising allies and enemies."
Booklist
"The twenty-first century needs this kind of unflinchingly honest history." 
Simon Sebag Montefiore,
Wall Street Journal
"An outstanding work of scholarship with all the excitement of a real spy novel—and with lessons beyond its historical moment" that "is especially valuable, in our own epoch of Arab revolutions, for showing the fragility and unpredictability of new regimes."
Minneapolis Star-Tribune
"Robert Service is a wizard. Not only does he make the often complicated history and personalities of modern Russian history intelligible to contemporary readers, as his excellent recent biography of Trotsky attests, but he's also an expert at de-mythologizing the "enigma wrapped in a riddle," as Churchill famously stated. In "Spies and Commissars," Service gives us a remarkably clear portrait of Russia as it emerged from the Bolshevik coup d'etat, and the efforts of its erstwhile allies -- Britain, France and the United States -- to compel the regime to (a) remain in the war against Germany, and failing that, to (b) isolate it and extinguish the bacillus of communism. The story is told with panache and great insight. Yes, it has been told before, but Service's achievement is that he has drawn together threads from disparate sources to weave a story that is vivid and fresh. Moreover, the characters that loom large in the telling -- wildly colorful Western agents and their grim Bolshevik foes -- are a match for anything to be found in the most enthralling political thrillers. Quite a triumph."
CHOICE

"An excellent account of the international intrigue that took place during the Russian Revolution…The author uses lesser- and well-known historical figures to facilitate understanding of the global significance of WW I, which most prominently included the survival of the Soviet state. The book's broad perspective makes it useful in world history survey courses."

New York Review of Books
"[a] colorful history."