Why Growth Matters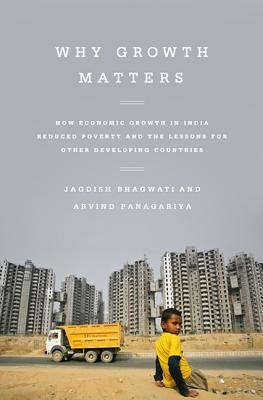 Why Growth Matters
How Economic Growth in India Reduced Poverty and the Lessons for Other Developing Countries
PublicAffairs, Hardcover, 9781610392716, 280pp.
Publication Date: April 2013
* Individual store prices may vary.
Shop Local
Enter your zip code below to find indies closest to you.
Description
In its history since Independence, India has seen widely different economic experiments: from Jawharlal Nehru's pragmatism to the rigid state socialism of Indira Gandhi to the brisk liberalization of the 1990s. So which strategy best addresses India's, and by extension the world's, greatest moral challenge: lifting a great number of extremely poor people out of poverty?
Bhagwati and Panagariya argue forcefully that only one strategy will help the poor to any significant effect: economic growth, led by markets overseen and encouraged by liberal state policies. Their radical message has huge consequences for economists, development NGOs and anti-poverty campaigners worldwide. There are vital lessons here not only for Southeast Asia, but for Africa, Eastern Europe, and anyone who cares that the effort to eradicate poverty is more than just good intentions. If you want it to work, you need growth. With all that implies.

About the Author
Jagdish Bhagwati is University Professor at Columbia University and External Advisor to the Director General, World Trade Organization and Senior Fellow for International Economics with the Council on Foreign Relations. He was named Distinguished Fellow of the American Economic Association in 2003.

Arvind Panagariya is a Professor of Economics at Columbia University. He has been the Chief Economist of the Asian Development Bank. He has also worked for the World Bank, International Monetary Fund, World Trade Organization, and United Nations Conference on Trade and Development in various capacities. His books include "India: The Emerging Giant"(2008) and "The Economics of Preferential Trade Agreement"(coedited with JagdishBhagwati, 1996).