Army of God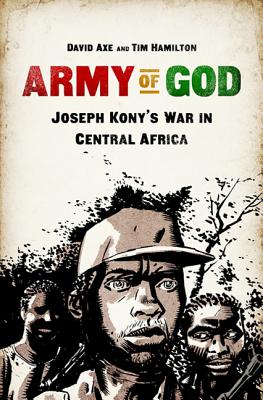 Army of God
Joseph Kony's War in Central Africa
PublicAffairs, Paperback, 9781610392990, 111pp.
Publication Date: March 12, 2013
* Individual store prices may vary.
Not Currently Available for Direct Purchase
or
Shop Local
Enter your zip code below to purchase from an indie close to you.
Description
It started with a visit from spirits. In 1991, Joseph Kony, the leader of a Ugandan rebel group known as the Lord's Resistance Army, claimed that spiritual beings had come to him, instructing him to lead brutal raids against civilians supporting the Ugandan government. In the decades since, wars have been waged to supplant him, yet for all the horror and condemnation his brutality has aroused around the world, Joseph Kony still survives.

In Army of God, war correspondent David Axe collaborates with illustrator Tim Hamilton to create the first-ever graphic account of a conflict that has become a global phenomenon. The controversial Kony2012 campaign and documentaries have already spilled out of social media and into high school and college campuses, raising awareness among a broad audience. Army of God tells the rest of the story, from the chaos Kony has left behind to the long campaign to defeat him for good.
About the Author
DAVID AXE is a freelance war correspondent based in Columbia, South Carolina. Since 2005 he has reported from Iraq, Afghanistan, Lebanon, East Timor, Somalia, Congo, and Chad, among other conflict zones. His work has appeared in hundreds of magazines and newspapers, including the "Washington Times", the "Village Voice", "Popular Mechanics", "Wired", "Popular Science", "Salon", and the "Columbia Journalism Review". Axe has appeared on BBC Radio, C-SPAN, and PBS, and is the author of several books, including the graphic novel "War Is Boring: Bored Stiff, Scared to Death in the World s Worst War Zones with Matt Bors" (NAL, 2010) and "From A to B: How Logistics Fuels American Power and Prosperity" (Potomac Books, 2012).

Tim Hamilton is the acclaimed artist behind the authorized graphic novel adaptation of Ray Bradbury's Fahrenheit 451. His work has been featured in the New York Times, Mad, and Nickelodeon. He lives in New York.