American Dervish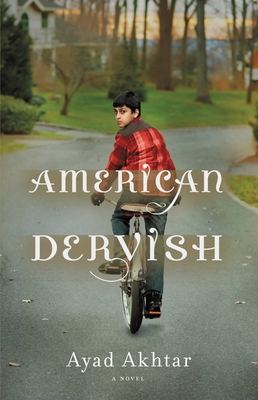 American Dervish
Little Brown and Company, Compact Disc, 9781611136173, 8pp.
Publication Date: January 9, 2012
* Individual store prices may vary.
Not Currently Available for Direct Purchase
or
Shop Local
Enter your zip code below to purchase from an indie close to you.
Description
Hayat Shah is a young American in love for the first time. His normal life of school, baseball, and video games had previously been distinguished only by his Pakistani heritage and by the frequent chill between his parents, who fight over things he is too young to understand. Then Mina arrives, and everything changes.
Mina is Hayat's mother's oldest friend from Pakistan. She is independent, beautiful and intelligent, and arrives on the Shah's doorstep when her disastrous marriage in Pakistan disintegrates. Even Hayat's skeptical father can't deny the liveliness and happiness that accompanies Mina into their home. Her deep spirituality brings the family's Muslim faith to life in a way that resonates with Hayat as nothing has before. Studying the Quran by Mina's side and basking in the glow of her attention, he feels an entirely new purpose mingled with a growing infatuation for his teacher.
When Mina meets and begins dating a man, Hayat is confused by his feelings of betrayal. His growing passions, both spiritual and romantic, force him to question all that he has come to believe is true. Just as Mina finds happiness, Hayat is compelled to act -- with devastating consequences for all those he loves most.
"American Dervish" is a brilliantly written, nuanced, and emotionally forceful look inside the interplay of religion and modern life. Ayad Akhtar was raised in the Midwest himself, and through Hayat Shah he shows readers vividly the powerful forces at work on young men and women growing up Muslim in America. This is an intimate, personal first novel that will stay with listeners long after they finish.
About the Author


Brian Tracy, president of Brian Tracy International, is one of the leading authors and speakers in the world on success, achievement, management, and leadership. He has written 45 books and created more than 350 audio and video learning programs. Brian has worked as a consultant and trainer for more than 1,000 corporations, including IBM, Ford, McDonnell Douglas, Xerox, Hewlett-Packard, U.S. Bancorp, Northwestern Mutual, Federal Express, and Comcast Communications. He speaks to more than 250,000 people each year and is the most popular audio author in the world.
Praise For American Dervish…
"Akhtar, the star and director of the 2005 terrorism drama The War Within, offers what promises to be one of the most complex treatments of Muslim immigration and fundamentalism to come from an American-born (albeit first-generation) writer."
-New York Magazine

"Whether you believe religion is a precious gift from God or the greatest scourge of mankind, you will find yourself represented in these pages. With brilliant storytelling and exquisitely balanced points of view, Ayad Akhtar creates characters who experience the rapture of religion but also have their lives ripped apart by it."
-Manil Suri, author of The Death of Vishnu and The Age of Shiva