The Man Who Couldn't Eat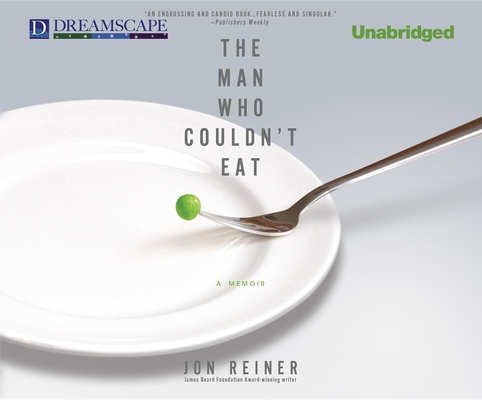 The Man Who Couldn't Eat
Dreamscape Media, Compact Disc, 9781611202663
Publication Date: September 6, 2011
* Individual store prices may vary.
Buy at Local Store
Enter your zip code below to purchase from an indie close to you.
or
Buy Here
Description
Jon Reiner was happily married with two children, living on Manhattan's Upper West Side, when a near-fatal medical crisis that resulted in emergency surgery threatened to take his life. He was sentenced to months of intravenous feeding that required him to abstain from eating anything, in order to give his digestive tract a rest. The medical commandment 'nothing by mouth' came to represent not only the prolonged food deprivation that would have a radical impact on Jon's relationship with food, but the intense and enduring effect it would have both on his emotional state, and his relationships with family and friends. Jon's vulnerability during this profoundly difficult time altered these relationships, but the amazing support he received deepened his understanding love, friendship, and community.
About the Author
Jon Reiner won the 2010 James Beard Foundation Award for Magazine Feature Writing with Recipes for the collaborative Esquire article 'How Men Eat.' His memoir, The Man Who Couldn't Eat, is based on an acclaimed article of the same name that he wrote for Esquire in 2009. He lives in New York City with his wife and two children.READER BIODan John Miller is an American actor and musician, having appeared in Walk the Line, Leatherheads and My One and Only. Dan has garnered two Audie nominations, several AudioFile Golden Earphones Awards and a Listen-Up Award from Publishers Weekly, and has been twice named a Best Voice by AudioFile magazine. He has narrated books by Pulitzer Prize-winning author Philip Roth and many others. Dan lives in the Detroit, Michigan, area with his wife and their daughter."
Praise For The Man Who Couldn't Eat…
Starred Review. Winner of a Listen Up Award for Nonfiction. "This compelling audio edition of Reiner's fascinating and heart-wrenching memoir features an inspired and intimate performance from narrator Dan John Miller. His delivery is well paced and steeped in genuine emotion...a compelling listen in which Miller speaks to listeners as if they were in the same room. It's a conversation they won't want to end." - Publishers Weekly
"...[narrator] authentically engaged with the humanity and pathos in the author's story...moving and instructive..." - AudioFile
"...heart-wrenching...An inspiring, incredible tale." - Kirkus Reviews
"I will never take eating for granted again. Wow! What a roller coaster. All I kept thinking was, you cannot be serious! But he was." - John McEnroe
"Jon has the moxie and the courage not only to tell the harrowingly real story of his fight to stay alive, but to do so with detachment and a crazy sense of irony. His memoir about food, hunger, and a near death experience is a food lover's nightmare and - with his food memories as the focal point - a necessary read." - Jonathan Waxman
"I have spent years of my life obsessing about my weight, feeling guilt over every mouthful. Jon Reiner's magnificent and devastating memoir, The Man Who Couldn't Eat, accomplished the impossible. It made me shut up and enjoy my food." - Ayelet Waldman, author of Red Hook Road
"Reiner writes a horrendously funny account of his condition in which food is his mortal enemy. He is the Olympian of a modern truth - our daily bread has it in for us - and his book hits the mark." - Lore Segal, author of Her First American and Shakespeare's Kitchen
"Reiner is such a vivid writer that this first-person account of a food lover's descent into hell is, at turns, gripping, horrifying, excruciating and, ultimately, redeeming." - Karen Page and Andrew Dornenburg, James Beard Award-winning authors of The Flavor Bible and The Food
"Jon Reiner has thrown the door to the mysterious world of chronic illness wide open in The Man Who Couldn't Eat, a memoir of an experience that is as illuminating to read about as it was horrifying to live. This wholly enthralling book will make you appreciate every breath you take - and every bite you eat." - Terry Teachout, drama critic, The Wall Street Journal, and author of Pops: A Life of Louis Armstrong