No One Is Here Except All of Us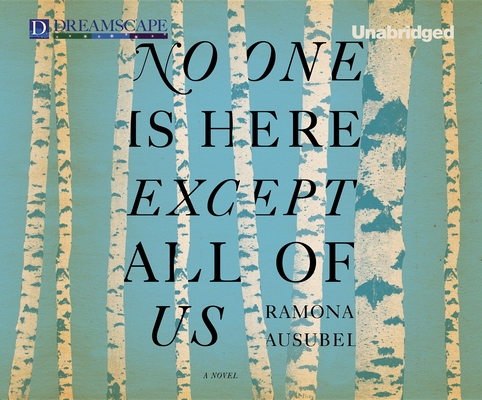 No One Is Here Except All of Us
Dreamscape Media, MP3 CD, 9781611206760
Publication Date: February 28, 2012
* Individual store prices may vary.
Buy at Local Store
Enter your zip code below to purchase from an indie close to you.
or
Buy Here
Description
A beguiling, imaginative and inspiring story that marks the arrival of a major new literary talent.
About the Author
Ramona Ausubel grew up in Santa Fe, New Mexico. She holds an MFA from the University of California, Irvine where she won the Glenn Schaeffer Award in Fiction. Her work was included in a list of '100 Other Distinguished Stories of 2008' in the Best American Short Stories and thrice as a 'Notable' story in the Best American Non-Required Reading. She was a finalist for the Pushcart Prize. She lives in Santa Barbara, California.READER BIO

Laural began working in regional theater as an actor at the age of 17. She has done over 20 years of stage work, and 16 years of audio book narration, having narrated over 100 titles in all genres. In addition, Laural has directed well over 100 audio titles, providing expertise on both sides of the microphone. In acknowledgement for years of excellence at her craft, Laural has received AudioFile's 'Earphones Award' many times over.
Praise For No One Is Here Except All of Us…
"...fantastical and ambitious...infused with faith in the power of storytelling." - New York Times
"Ausubel uses the history of her own great grandmother as the framework for her first novel, which fully evokes the horrors of the Holocaust by merely touching on events. A fabulist tale of love, loss, faith, hope, community, and, especially, the power of story." - Booklist
"Ausubel has written a riveting, otherworldly story about an all-too-real war and the transformative power of community." - Library Journal
"Ramona Ausubel's debut, No One Is Here Except All of Us captures the magical group-think of a Romanian village that retreats into an imaginary reality at the outbreak of war." - Vogue
"...a sustained magical realist fable where the characters also engage in self-conscious magical thinking." - The Toronto Star
"...beautifully written in a flowing, lyrical prose...hauntingly poetic...No One is Here is an electric jolt, waking us up to remember what has been and what could be again." - Relevant Magazine
"...lyrical and poetic...fascinating." - BlogCritics.org
"In her strange and lovely debut novel, Ramona Ausubel tells (slyly, sideways) of the horrors of war: A Romanian Jewish community dreams up a collective delusion about the world they live in. Rather than resist or run from events too insane to be real, they construct an elaborate game of make-believe which works, until it doesn't. I was unsettled and moved by this tale of the human imagination - its force, its failure and its regeneration." - Danzy Senna, author of You are Free
"In her debut novel, No One Is Here Except All of Us, Ramona Ausubel breaks new ground, with a unique prose style that weaves a classic immigrant tale into a world of dreams. The town of Zalischick and its citizens re-write their own story, filling it with magic, hope, and a determination in the face of destruction to find new ways to begin." - Hannah Tinti, author of The Good Thief
"Here is a world created out of the most curious and beautiful remnants of our own: opera, suitcases, letters, rivers, daughters, strangers and shovels. Ramona Ausubel cracks open the very idea of a book and fills its shell with a thing glimmering, thrilling and new." - Samantha Hunt, author on The Invention of Everything Else
"A special work of the imagination, an original gift, dark and light, and Ramona Ausubel colors it all with a glowing wisdom." - Ron Carlson, author of Five Skies
"Beautifully written and alive in story, fascinating characters, and place. You can't help but compare Ausubel's book with Marquez, with her fantastic vision of history and invention, the small village dreaming the vast world, but she is her own new fresh voice." - Brad Watson, author of The Heaven of Mercury
"A wise, compassionate book that even in its darkest turns uplifts." - Christine Schutt, author of Florida and All Souls