All Things Shining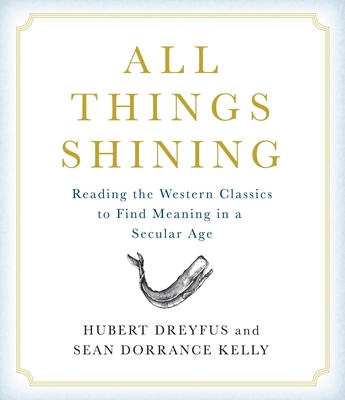 All Things Shining
Reading the Western Classics to Find Meaning in a Secular Age
Highbridge Company, Compact Disc, 9781611744521
Publication Date: April 12, 2011
* Individual store prices may vary.
Buy Now
or
Shop Local
Enter your zip code below to purchase from an indie close to you.
Description
The religious turn to their faith to find meaning. But what about the many people who lead secular lives and are also hungry for meaning? What guides, what approaches are available to them?
Distinguished philosophers, Hubert Dreyfus and Sean Dorrance Kelly explain that a secular life charged with meaning is indeed within reach. It is achieved by a passionate, skillful engagement with the people, events, and wonders present in the most ordinary days an approach to meaning that modern Western culture seems to have abandoned.
Dreyfus and Kelly use some of the greatest works of the Western Canon to trace the way we lost this passionate engagement to our surroundings and to show us how to get it back. Taking us on a journey from the wonder and openness of Homer's polytheistic world, to the monotheism of Dante, to the nihilism of Kant, to the pantheism of Melville, and finally to the spiritual difficulties of the world evoked by modern authors such as David Foster Wallace and Elizabeth Gilbert, "All Things Shining" will change the way we understand our culture, our history, our sacred practices, and ourselves, and offer a new and very old way to celebrate a secular existence.
About the Author
Hubert Dreyfus is Professor Emeritus of Philosophy at the University of California, Berkeley.

Sean Dorrance Kelly is Professor of Philosophy and Chair of the Department of Philosophy at Harvard University. He is also Co-Chair of Harvard's interdisciplinary committee for the study of Mind, Brain, and Behavior. Before arriving at Harvard, Kelly taught at Stanford and Princeton, and he was a Visiting Professor at the Ecole Normale Superieure in Paris. He is considered a leading interpreter of the French and German tradition in phenomenology, as well as a prominent philosopher of mind. Kelly has published articles in numerous journals and anthologies and has received fellowships or awards from the Guggenheim Foundation, the NEH, the NSF and the James S. McDonnell Foundation, among others.

DAVID DRUMMOND received an "AudioFile" Earphones award for his very first audiobook narration effort. Since then, he has recorded nearly fifty audiobooks for many different publishers and in many different genres. He lives with his family in Seattle.