The Parrot That Wouldn T Talk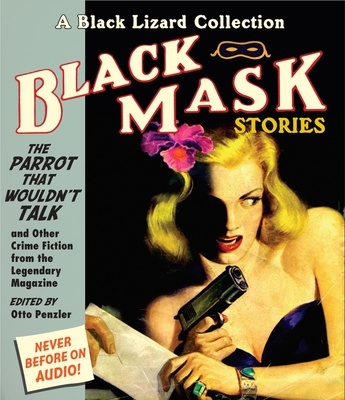 The Parrot That Wouldn T Talk
And Other Crime Fiction from the Legendary Magazine
Highbridge Company, Compact Disc, 9781611744675
Publication Date: December 2011
* Individual store prices may vary.
Shop Local
Enter your zip code below to find indies closest to you.
Description
From its launch in 1920 until its demise in 1951, the magazine "Black Mask" published pulp crime fiction. The first hard-boiled detective stories appeared on its pages. Dashiell Hammett and Raymond Chandler, Erle Stanley Gardner and John D. MacDonald got their start in "Black Mask." The urban crime stories that appeared in "Black Mask" helped to shape American culture. Modern computer games, films, and television are rooted in the fiction popularized by the seminal and venerated mystery pulp magazine ("Booklist").Otto Penzler selected and wrote introductions to the best of the best, the darkest of these dark, vintage stories for the collection "The Black Lizard Big Book of Black Mask Stories." Now that collection is available for the first time on audio. Includes: Bracelets by Katherine Brocklebank; read by Carol Monda Diamonds Mean Death by Thomas Walsh; read by Alan Sklar Murder in the Ring by Raoul Whitfield; read by Jeff Gurner The Parrot That Wouldn t Talk by Walter C. Brown; read by Pete Larkin Let the Dead Alone by Merle Constiner; read by Oliver Wyman
About the Author
Otto Penzler is the founder of the Mysterious Press and owns the Mysterious Press specialist bookshop in New York.

Oliver Wyman, a native New Yorker, has appeared on stage as well as in film, and television. He is one of the founders of New York City's Collective Unconscious theater, and his performances include the award-winning "reality play" "Charlie Victor Romeo" and A.R. McElhinney's cult classic film "A Chronicle of Corpses". He also lent his voice to several episodes of the Teenage Mutant Ninja Turtles. Oliver's work as a narrator extends to over 150 audiobooks and has won many him awards, including Audie awards for his reading of Lance Armstrong's autobiography, "It's Not About the Bike", and Thomas L. Friedman's "The World is Flat". He also read James Frey's "A Million Little Pieces", Tim Dorsey's "Atomic Lobster", and David Weber's "By Schism Rent Asunder". Oliver has won five Audie Awards from the Audio Publisher's Association, fourteen Earphone Awards from "AudioFile" "Magazine", and two Listen Up Awards from "Publisher's Weekly. "Oliver was named a 2008 Best Voice in Nonfiction & Culture by "AudioFile Magazine".

PETE LARKIN has wide and deep voiceover and on-camera experience and has worked in virtually all media. In addition to his extensive narration and theater work, he has served as the public address announcer for the New York Mets from 1988-1993 and as a radio personality in Baltimore, Washington and New York.