Zen Confidential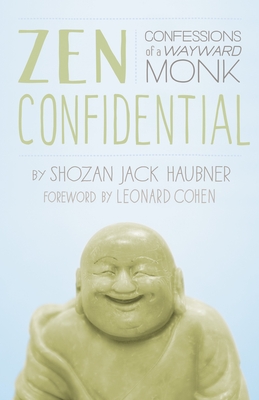 Zen Confidential
Confessions of a Wayward Monk
Shambhala Publications, Paperback, 9781611800333, 269pp.
Publication Date: May 14, 2013
* Individual store prices may vary.
Buy Now
or
Shop Local
Enter your zip code below to purchase from an indie close to you.
Description
"This punk of a monk, who should be tending to his own affairs, has decided to infect the real world with his tall tales, and worse, to let the cat out of the bag. And what a sly, dangerous, beautiful, foul-smelling, heart-warming beast it is."--Leonard Cohen, from the foreword
These hilarious essays on life inside and outside a Zen monastery make up the spiritual memoir of Shozan Jack Haubner, a Zen monk who didn't really start out to be one. Raised in a conservative Catholic family, Shozan went on to study philosophy (becoming de-Catholicized in the process) and to pursue a career as a screenwriter and stand-up comic in the clubs of L.A. How he went from life in the fast lane to life on the stationary meditation cushion is the subject of this laugh-out-loud funny account of his experiences. Whether he's dealing with the pranks of a juvenile delinquent assistant in the monastery kitchen or defending himself against claims that he appeared in a porno movie under the name "Daniel Reed" (he didn't, really) or being surprised in the midst of it all by the compassion he experiences in the presence of his teacher, Haubner's voice is one you'll be compelled to listen to. Not only because it's highly entertaining, but because of its remarkable insight into the human condition.
About the Author
Shozan Jack Haubner is a Zen monk whose writing has earned him a Pushcart Prize and whose humorous essays have appeared in such periodicals as Buddhadharma, Tricycle, and The Sun.


Praise For Zen Confidential…
"The author's search to 'grow into a true human being' is described with startling metaphors, acute insights, and humor. . . . Haubner's unorthodox take on the spiritual search, marked by moments of grace, and his strength as an essayist will win over a specific audience willing to accept his dare."—Publishers Weekly

"This punk of a monk, who should be tending to his own affairs, has decided to infect the real world with his tall tales, and worse, to let the cat out of the bag. And what a sly, dangerous, beautiful, foul-smelling, heart-warming beast it is."—Leonard Cohen, from the foreword

"This is the funniest, most genuine spiritual memoir I have ever read. It feels odd to call it a memoir, given how it is chock full of genuine Buddhist insight. A must-read, especially for those of us who have been accused of being in gay porn films."—Lodro Rinzler, author of The Buddha Walks into a Bar…

"Zen Confidential has a virtue rare in spiritual books, it includes the whole of life. Here we have sex, bathroom customs of the monastery, politics, suicide, drugs, meanness, marriage, standup comedy, Las Vegas, koans and a 105-year-old Zen master.  It's a window into a magical world that pretends to be ordinary and an ordinary world that is magical. Haubner has an acute eye for the ridiculousness of the world and a larger-than-life way of seeing. It's a fresh, living account of this kind of Zen in America and of living well and serving the way." —John Tarrant, author of Bring Me the Rhinoceros and Other Zen Koans That Will Save Your Life