The Bloodletter's Daughter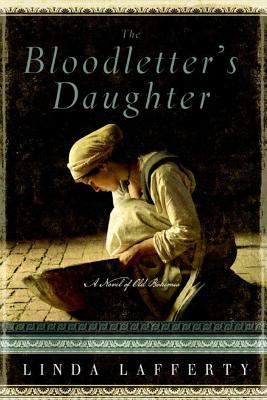 The Bloodletter's Daughter
A Novel of Old Bohemia
Lake Union Publishing, Paperback, 9781612184654, 512pp.
Publication Date: September 4, 2012
* Individual store prices may vary.
Buy Now
or
Shop Local
Enter your zip code below to purchase from an indie close to you.
Description
In 1606, the grand city of Prague hides an ugly secret: the emperor's bastard son, Don Julius, is afflicted with a madness that pushes the prince to unspeakable depravity. Banished to a remote corner of Bohemia, Don Julius comes under the care of a bloodletter who works to purge the vicious humors coursing through the young royal's veins. When the prince meets the bloodletter's daughter Marketa, his madness sparks a frenzied and dangerous obsession.
He believes Marketa embodies the women from the Coded Book of Wonder, a priceless manuscript from the imperial library that was the young prince's only link to sanity. As the prince descends further into the darkness of his mind, his acts become ever more desperate, and Marketa, both frightened and fascinated, can t stay away. Inspired by a true murder that rocked the Hapsburg dynasty, "The Bloodletter's Daughter" is a dark and richly detailed saga of passion and revenge.
About the Author
Linda Lafferty taught in public education for nearly three decades, in schools from the American School of Madrid to the Boulder Valley schools to the Aspen school district. She completed her PhD in bilingual special education and went on to work in that field, as well as teaching English as a second language and bilingual American history. Horses are Linda s first love, and she rode on the University of Lancaster s riding team for a year in England. As a teenager, her uncle introduced her to the sport of polo, and she played in her first polo tournament when she was seventeen. Linda also loves Siena, Italy, and the people of the region and has returned to the city half a dozen times in the past three years to research her novel. Linda is the author of three previous novels: The Bloodletter s Daughter, The Drowning Guard, and House of Bathory. She lives in Colorado with her husband.