For Your Eyes Only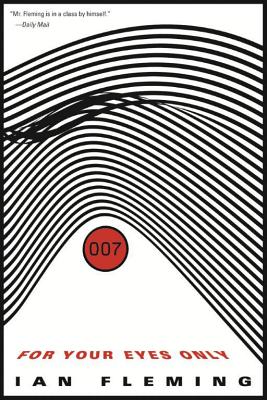 For Your Eyes Only
Thomas & Mercer, Paperback, 9781612185514, 182pp.
Publication Date: October 16, 2012
* Individual store prices may vary.
Buy Now
or
Shop Local
Enter your zip code below to purchase from an indie close to you.
Description
A departure from the full-length James Bond novels, For Your Eyes Only is a stunning collection of five stories that sends 007 to Bermuda, Berlin, and beyond, and places him in the dangerous company of adversaries of all varieties. From a View to a Kill whisks Bond to the French countryside where he must go undercover to expose a deadly secret-intelligence plot, and in For Your Eyes Only, 007 is absorbed into a private vendetta of M's, blurring the lines between the personal and professional. In Quantum of Solace, Bond attends a dinner party in the Bahamas and learns how passion can soon twist into cruelty, while Risico forces the secret agent to fight for the lesser of two evils in a smuggling war set amid the Mediterranean. Finally, The Hildebrand Rarity lands 007 in an old-fashioned murder mystery at sea, where even he has a secret to keep. A collection of both classic intrigue and intrepid self-examination, For Your Eyes Only packs full, vibrant worlds into five classic tales.
About the Author
Ian Lancaster Fleming was a British journalist, naval intelligence officer, and creator of the fictional British spy, James Bond. Educated at Eton, Sandhurst, and at universities in Switzerland and Germany, Fleming s failure at the Foreign Office entrance exams led to brief careers with Reuters and as a stockbroker before he joined British Naval Intelligence in 1939. As personal assistant to the director, Fleming excelled, and his wartime service provided ample background for his later Bond stories.
Fleming s Bond novels and short-story collections are among the best-selling books of all time, and serve as the basis for the highly-successful movie franchise, which has starred such acclaimed actors as Sean Connery, Roger Moore, Pierce Brosnan, and Daniel Craig as James Bond. In addition to the Bond series, Fleming wrote the children s classic Chitty-Chitty-Bang-Bang: The Magical Car. He died in 1964 of heart disease.