The Duke's Table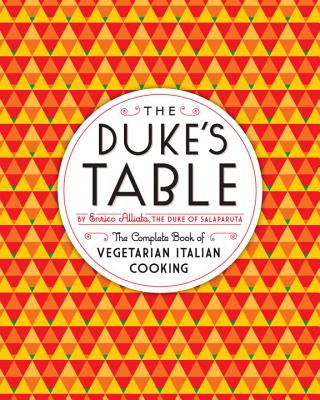 The Duke's Table
The Complete Book of Vegetarian Italian Cooking
Melville House Publishing, Hardcover, 9781612191393, 333pp.
Publication Date: March 26, 2013
* Individual store prices may vary.
Buy at Local Store
Enter your zip code below to purchase from an indie close to you.
or
Not Currently Available for Direct Purchase
Description
An encyclopedic collection of vegetarian recipes from Italy—learn how to make all of the classic dishes without meat

"Even though man can draw all he needs in the way of nourishment from a mere handful of seeds and fruit, he must not give up a proper meal."
—Enrico Alliata

Enrico Alliata, the Duke of Salaparuta (1879-1946), was a utopian gourmand and winemaker who espoused a vegetarian lifestyle and a raw foods diet at a time when the very notion was unheard of. He worked for decades to systematically re-imagine classic Italian dishes without meat. The result, first published in 1930, is a timeless reference work, with dishes that are surprising, inventive, and often decadent. 

Early chapters like "Appetizers and Salads" include recipes for inventive vegetarian sandwiches and crostini, as well as refreshing salads (and even a recipe for simple homemade ricotta cheese). "Broths and Purees" includes rich and flavorful vegetable broths, hearty purees, and pasta in broth, like vegetarian 'Agnollotti' in broth filled with parmesan and walnuts. 

The "First Courses, Pasta Dishes and Timballi" chapter is a comprehensive collection of authentic Italian recipes for gnocchi, risotto, polenta, ravioli, from Risotto 'alla Milanese' with saffron, nutmeg, and parmesan to Sicilian Style Gnocchi, with fried eggplant and tomato sauce.  "Luncheon Dishes, Vegetables, Legumes and Side Dishes" features preparations for eggplant and artichokes, and is a great go-to for quick side dishes and lighter vegetarian meals.  His main dishes chapters include a variety of casseroles and soufflés, and the Duke even has several preparations for mock meats, such as vegetarian "Foie Gras Mousse" made with ricotta cheese and black truffles.  

Much more than a recipe book, The Duke's Table is a major re-discovery and a fascinating look into the philosophy of a food revolutionary who was truly before his time.
About the Author


Olipia Zagnoli est nee en 1984 dans une petite ville du nord de l Italie. On peut retrouver ses illustrations dans de nombreux magazines, journaux, couvertures de livres, affiches et galeries, aussi bien en Europe qu aux Etats-Unis. Elle travaille notamment pour The New York Times, The New Yorker, The Washington Post, The Boston Globe, Rolling Stone, Corriere della Sera, Adidas Originals Olimpia vit actuellement entre Milan et New York et conduit une Fiat jaune. Sa couleur preferee est le gris, elle aime Picasso, et reve de devenir une rockstar quand elle sera grande. Son premier ouvrage publie en France, Monsieur Horizontal et Madame Verticale, est paru en 2013 aux Editions Michel Lagarde.

Antony Shugaar is a writer and translator. Aside from Giorgio Faletti s "A Pimp s Notes", his recent translations include books by Simonetta Agnello Hornby, Silvia Avallone, Nanni Balestrini (with an NEA translation fellowship), Fabio Bartolomei, Massimo Carlotto, Giancarlo De Cataldo, Diego De Silva, Marco Mancassola, Gianni Rodari, and Paolo Sorrentino. He is the author of "Coast to Coast" and "I Lie for a Living" and the coauthor, with the late Gianni Guadalupi, of "Discovering America" and "Latitude Zero". He has published with the "Washington Post", the "Boston Globe", and online with the "New York Times", among other publications. He is currently at work on a book about translation for the University of Virginia Press.
Praise For The Duke's Table…
"Italians are masters of vegetarian cuisine, as this compendium attests. […] The book is impressive in its variety and breadth." —La Cucina Italiana
 
"[Alliata] exhibits a puckish sense of humor... A novel system of serially numbering recipes makes cross-referencing a breeze and deserves to set a new model for cookbook organization." —Booklist

"A fascinating and fresh spin on Italian food."—Publishers Weekly