A Private Venus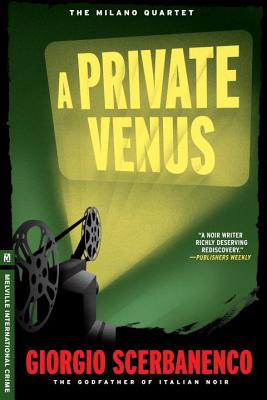 A Private Venus
Melville House Publishing, Paperback, 9781612193359, 241pp.
Publication Date: March 25, 2014
* Individual store prices may vary.
Buy at Local Store
Enter your zip code below to purchase from an indie close to you.
or
Buy Here
Description
"A noir writer richly deserving rediscovery."
—Publishers Weekly

The book that gave birth to Italian noir . . .

Milan, 1966: When Dr. Duca Lamberti is released from prison, he's lost his medical license and his options are few. But thanks to an old connection, he lands a job, although it's a tricky one: guarding the alcoholic son of a plastics millionaire.

But Lamberti soon discovers that the young man has a terrible secret, rooted in the mysterious death of a beautiful woman on the gritty side of town. The fast cars, high fashion, and chic nightclubs of glitzy and swinging Milan conceal a dirty reality . . . This is no dolce vita.

A Private Venus marks the beginning of Italian noir: Giorgio Scerbanenco pioneered a new type of novel that trained its gaze on the crime and desperation that roiled under prosperous Italian society in the 1960s. And at the heart of this book is Duca Lamberti, an unforgettable protagonist: obsessive, world-weary, unconventional in his methods, and trying hard not to make 
another fatal mistake.
About the Author


Jose Carlos Llop is the author of the novels La camara de ambar(Muchnick, 1996;finalist Prix Jean Monnet de Litteratures Europeennes 2011), El informe Stein(Muchnik, 1995 / RBA, 2008;Prix Ecureuil de litterature etrangere 2008), Hablame del tercer hombre(Muchnik, 2001 / RBA, 2011), El mensajero de Argel(Destino, 2005) andParis: suite 1940(RBA, 2007). He has also written the two books of short storiesPasaporte diplomatico(El Aleph, 1991) andLa novela del siglo(NH Award for the Best Book of Short Stories 1999, El Aleph, 1999). He has publishednine books of poetry and is the author of five volumes of diaries. His latest works areEn la ciudad sumergida(RBA, 2010), an essay on Mallorca that gotthe Special Mention by the Jury of the 2013 Prix Mediterranee Etranger, andSolsticio(RBA, 2013).
Praise For A Private Venus…
Praise for Giorgio Scerbanenco

"[A Private Venus] has just been released . . . in a crackling new translation by Howard Curtis. I read it in a single sitting . . . Scerbanenco was a trailblazing radical who pulled the mask off a whole era." —John Powers, NPR's Fresh Air

"Compelling." —The Wall Street Journal

"A gem . . . A vivid portrait of Milan's seamy underbelly . . . Scerbanenco reveals Duca Lamberti to us; in doing so, he also unveils the Italian hardboiled hero."
—Crime Fiction Lover

"Scerbanenco's dark, moody novels have much in common with the darkest of Scandinavian crime fiction . . . This forgotten noir classic from 1966 is finally available in translation. That's good news!"
—Library Journal

"There is courage in his books, the courage to call things by their name . . . No filters shield you from the reality, which is as desperate, fierce, and stark as in the best novels of James Ellroy or Jim Thompson."
—Carlo Lucarelli

"[Scerbanenco can be] as dark as Leonardo Sciascia, as deadpan realistic as Maj Sjöwall and Per Wahlöö, as probing in his observation of people as Simenon, as humane as Camilleri, as noir as Manchette . . . but with a dark, dark humor all his own."
—Detectives Beyond Borders

"The Duca Lamberti novels are world-class noir, and their publication in English is long, long overdue."
—The Complete Review

"A blast from the past, a sleek, stripped-down reminder of the fast, brutal days of Continental noir."
—Kirkus
Wednesday, Apr 16, 2014
A crackling new translation of Giorgio Scerbanenco's crime novel Private Venus has just been released. Critic John Powers read it in a single sitting. More at NPR.org