Fairy Tail V26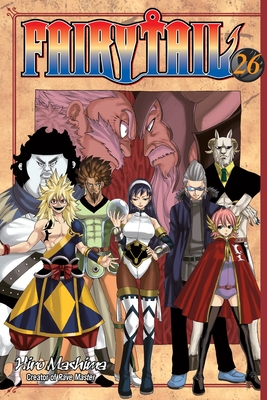 Fairy Tail V26
Kodansha Comics, Paperback, 9781612622682, 208pp.
Publication Date: May 28, 2013
* Individual store prices may vary.
Shop Local
Enter your zip code below to find indies closest to you.
Description
MASTER AGAINST MASTER
Just as the S-class wizard test gets underway, everything goes wrong Grimoire Heart launches a surprise attack on Fairy Tail. But the guild is just collateral damage their real goal is much more sinister. At the vanguard of the invasion force is Grimoire Heart's master, Hades a man who only respects power, and has a history with Makarov
About the Author
Hiro Mashima was born in Nagano, Japan on May 3, 1977. He created RAVE for Weekly Shonen magazine in 1998 when he was just 21 years old, and in 4 short years the series has already spawned 18 volumes, 3 guide books, a hit anime series, 2 console video games, merchandise, and has been licensed around the world. Mashima-san is quite fond of his hair (he cuts it himself and constantly changes its color). He hates caterpillars (don't ask why) and any that get in his path are just asking to be squashed. Oh yeah, and his blood type is B.