Fairy Tail, Volume 35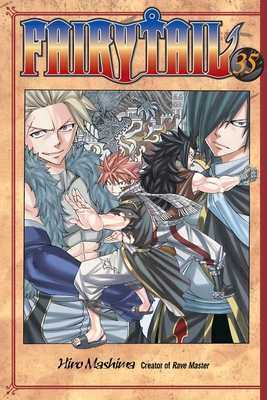 Fairy Tail, Volume 35
Kodansha Comics, Paperback, 9781612624129, 208pp.
Publication Date: February 25, 2014
* Individual store prices may vary.
Buy Now
or
Shop Local
Enter your zip code below to purchase from an indie close to you.
Description
DRAGON SLAYER DEATHMATCH
When Minerva of Saber Tooth sadistically thrashes Lucy to within an inch of her life, Fairy Tail vows vengeance Their chance comes at the climax of the fourth day's events. It's Natsu and Gajeel vs. Sting and Rogue, the old dragon slayers against the new Can the stadium contain the sheer power of these wizards' fire and iron?
About the Author
Hiro Mashima was born in Nagano, Japan on May 3, 1977. He created RAVE for Weekly Shonen magazine in 1998 when he was just 21 years old, and in 4 short years the series has already spawned 18 volumes, 3 guide books, a hit anime series, 2 console video games, merchandise, and has been licensed around the world. Mashima-san is quite fond of his hair (he cuts it himself and constantly changes its color). He hates caterpillars (don't ask why) and any that get in his path are just asking to be squashed. Oh yeah, and his blood type is B.