All of Me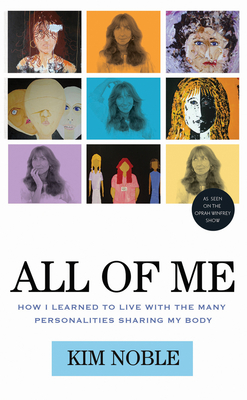 All of Me
How I Learned to Live with the Many Personalities Sharing My Body
Chicago Review Press, Paperback, 9781613744703, 369pp.
Publication Date: October 1, 2012
* Individual store prices may vary.
Buy Now
or
Shop Local
Enter your zip code below to purchase from an indie close to you.
Description
Taking the reader through an extraordinary world where the very nature of reality is different, this personal narrative tells the story of one woman's terrifying battle to understand her own mind. From the desperate struggle to win back the child she loves to the courage and commitment needed to make sense of her life, this account recalls Kim Noble's many years in and out of mental institutions and various diagnoses until finally being appropriately diagnosed with dissociative identity disorder (DID). Described as a creative way some minds cope with unbearable pain, DID causes her body to play host to more than 20 different personalities—from a little boy who speaks only Latin and an elective mute to a gay man and an anorexic teenager. Funny and ultimately uplifting, this brave illumination of the links and intersections between memory, mental illness, and creativity offers a glimpse into the mind of someone with DID and helps readers understand the confusion, frustration, and everyday difficulties in living with this disorder.
About the Author
My pen name is K. A. Angliss. I'm a pretty new author of the Sci-fi genre. I live in Essex, UK with my partner, my little girl and my three rescue rabbits. I decided to choose self-publishing over traditional methods of publication, not wanting to give up artistic authority and enjoy being more 'hands on' in all aspects of my work. I've always had a passion for reading and writing but only in my mid-twenties that I found my own defining writing style and the confidence to get my ideas down onto paper. The Project Butterfly series is based on actual experiments on the human mind, a subject that has greatly affected me. I was doing some light reading on WW2 and I uncovered the disturbing history of Unit 731. It kept me up at night thinking about the cruel experiments carried out and inspired me to research further and question our human rights.

Jeff Hudson is a writer and journalist whose work has appeared throughout the music press. He is the co-author of books about the Kinks and Led Zeppelin.