Fierce Angels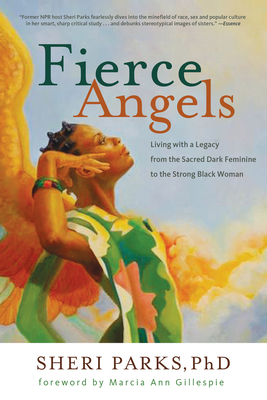 Fierce Angels
Living with a Legacy from the Sacred Dark Feminine to the Strong Black Woman
Chicago Review Press, Paperback, 9781613745045, 304pp.
Publication Date: April 1, 2013
* Individual store prices may vary.
Buy at Local Store
Enter your zip code below to purchase from an indie close to you.
or
Buy Here
Description
The "Strong Black Woman" has been a part of mainstream culture for centuries, as a myth, a goddess, a positive role model, a stereotype, and as a burden. In Fierce Angels, Sheri Parks explores the concept of the Strong Black Woman, its influence on people of all races, and the ways in which black women respond to and are affected by this image. Originating in the ancient Sacred Dark Feminine as a nurturing and fierce goddess, the Strong Black Woman can be found in myths from every continent. Slaves and slave owners alike brought the legend to America, where the spiritual icon evolved into the secular Strong Black Woman, with examples ranging from the slave Mammy to the poet Maya Angelou. She continues to appear in popular culture in television and movies, such as Law and Order and The Help, and as an inspirational symbol associated with the dispossessed in political movements, in particular from Africa. The book presents the stories of historical and living black women who embody the role and puts the icon in its historical and evolutionary context, presenting a balanced account of its negative and positive impact on black culture. This new paperback edition has been revised from the hardcover edition to include two new chapters that expand on the transformative Dark Feminine in alchemy and Western literature and a final chapter on the political uses and further potential of the Sacred Dark Feminine in social justice movements in the United States and abroad.
About the Author
Sheri Parks, PhD, is an associate professor in the American studies department in addition to an affiliate faculty member of the women's studies and African American studies departments at the University of Maryland-College Park. She is an award-winning teacher and public speaker and is the host of NPR's "Clear Reception with Sheri Parks." Her work has been featured in the "Los Angeles Times," the "New York Times," "Newsweek," and the "Washington Post" as well as on CNN, MSNBC, and NBC News.
Praise For Fierce Angels…
"Thought-provoking."  —Washington Post


"Former NPR host Sheri Parks fearlessly dives into the minefield of race, sex and popular culture in her smart, sharp critical study . . . and debunks stereotypical images of sisters."  —Essence


"Parks argues that the image of the strong black woman has been as much a burden as a tribute because it has come to be expected that black women will endure all means of hardship in tending to the needs of others. [She] offers a compelling analysis of the toll of the strong image on women who have had enormous responsibilities but—until recently—little control."  —Booklist


"It's been more than 30 years since feminist Michele Wallace's Black Macho and the Myth of the Superwoman. . . . Parks' book goes much further. . . . These women are change agents in American life, fiercely human angels, whose stories deserve the kind of complex and nuanced analysis that Parks' book delivers."  —Ms.