V Wars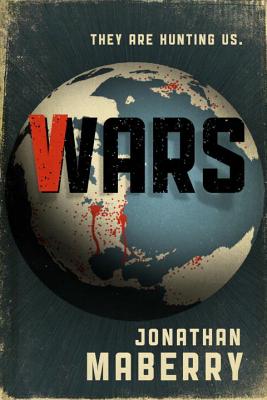 V Wars
A Chronicle of Vampire Wars
IDW Publishing, Hardcover, 9781613771518, 406pp.
Publication Date: July 10, 2012
* Individual store prices may vary.
Buy at Local Store
Enter your zip code below to purchase from an indie close to you.
or
Buy Here
Description
A sweeping, threaded narrative of the global phenomenon known as the Vampire Wars Mankind is silently infected by a millennia-old bacteria unknowingly exhumed by a scientific expedition in Antarctica. Now, in some rare cases, a person's so-called "junk DNA" becomes activated, and depending on their racial and ethnic heritage they begin to manifest one of the many diverse forms of the "others" that are the true basis for the legends of supernatural creatures. These aren't your usual vampires and werewolves -- it goes much deeper than that. Conceived by Jonathan Maberry, "V Wars" features stories from various "frontlines" as reported by such contributors as Nancy Holder, Yvonne Navarro, James A. Moore, Gregory Frost, John Everson, Keith R.A. DeCandido, and Scott Nicholson (as well as Maberry himself, of course). The result is a compelling series of tales that create a unique chronicle of mankind's response to this sudden, hidden threat to humanity. For readers who enjoyed; World War Z (9780307346612), Robopocalypse (9780385533850), 30 Days of Night (9781613770405) and Zombies vs Robots (9781600103285)
About the Author
Jonathan Maberry is a "New York Times" bestselling author, multiple Bram Stoker Award winner, and Marvel Comics writer. He s the author of many novels, including "Assassin s Code", "Dead of Night", "Patient Zero", and "Rot & Ruin". His nonfiction books cover topics ranging from martial arts to zombie pop-culture. Jonathan continues to teach the celebrated Experimental Writing for Teens class, which he created. He founded the Writers Coffeehouse and cofounded The Liars Club, and he is a frequent speaker at schools and libraries, as well as a keynote speaker and guest of honor at major writers and genre conferences. Jonathan lives in Del Mar, California, with his wife, Sara, and their son, Sam. Visit him at JonathanMaberry.com and on Twitter (@JonathanMaberry) and Facebook.

Nancy Holder is the nationally bestselling author of forty-two novels and two hundred science fiction, fantasy and horror short stories. She has received four Bram Stoker Awards from the Horror Writers Association, and her latest novel, Ghost Roads, appeared on the USA Today Bestseller list. Her work has been translated into more than two dozen languages. She has spoken at World Fantasy conventions, and at World Horror conventions, among others. She currently lives in San Diego with her husband Wayne, her daughter Belle, and their three dogs, Mr. Ron, Maggie, and Dot.

John Everson is the Bram Stoker Award-winning author of the novels Covenant, Sacrifice and The 13th. He shares a deep purple den in Naperville, Illinois with a cockatoo and cockatiel, a disparate collection of skulls, twisted skeletal fairies, and a large stuffed Eeyore. There's also a mounted Chinese fowling spider named Stoker, an ever-growing shelf of custom mix CDs and an acoustic guitar that he can't really play but that his son likes to hear him beat on anyway. Sometimes his wife is surprised to find him shuffling through more public areas of the house, but it's usually only to brew another cup of coffee or restock a pint of Newcastle.