The Mindful Writer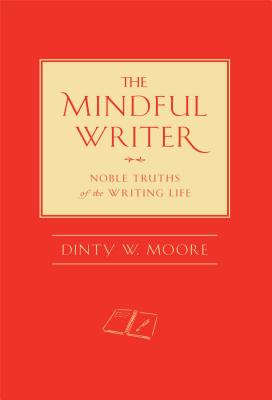 The Mindful Writer
Noble Truths of the Writing Life
Wisdom Publications (MA), Hardcover, 9781614290070, 142pp.
Publication Date: April 10, 2012
* Individual store prices may vary.
Buy at Local Store
Enter your zip code below to purchase from an indie close to you.
or
Buy Here
Description
Going beyond the typical "how to write" book, The Mindful Writer illuminates the creative process: where writing and creativity originate, how mindfulness plays into work, how to cultivate good writing habits, how to grow as a writer and a person, and what it means to live a life dedicated to the craft of writing. There's not a writer alive, novice or master, who will not benefit from this book and fall in love with it. Cover to cover, this wise little book is riveting and delightful. The Mindful Writer will be a book that readers will turn to again and again as a source inspiration, guidance, and support.
About the Author
Dinty W. Moore is author of "The Mindful Writer: Noble Truths of the Writing Life," as well as the memoir "Between Panic and Desire," winner of the Grub Street Nonfiction Book Prize in 2009. Moore has published essays and stories in "The Southern Review," "The Georgia Review," "Harpers," "The New York Times Sunday Magazine," "The Philadelphia Inquirer Magazine," "Iron Horse Literary Review," and "Crazyhorse," among numerous other venues. A professor of nonfiction writing at Ohio University, Moore lives in Athens, Ohio, where he grows heirloom tomatoes and edible dandelions.
Praise For The Mindful Writer…
"Advice books for writers are a dime a dozen but Moore provides a fresh approach with this melding of Buddhist teachings and sage career and life lessons for those who devote their lives to the written word...this is a compact book of practical and philosophical truths for both novice and veteran writers." Publishers Weekly

Small but powerfula welcome addition to many writers' desks, and an inspiring and supportive gift." ForeWord

"Pithy and thoughtful."Shambhala Sun

"The Mindful Writer is a strong pick for anyone who wants to make sure they are writing with their heart in it, very much recommended."Midwest Book Review

"There is something fresh and undeniably appealing about these bite-sized morsels, which expand the writer's experience to a broader, human one." The Writer Magazine

"The Mindful Writer will remind us to offer a note of gratitude each time we reach the end of our writing sessions, having discovered words on the page that we never saw before."Wordswimmer blog

"In short, The Mindful Writer is an indispensable title for anyone who wants to better understand the relationship between writing and mindfulness." Buddhist Book Reviews

"Never be without itas reference, as balm, as talisman; to refresh, encourage, comfort, and instruct. It's a trove of treasures. Professor Mooreinsightful, funny, and truecheers us on like the teacher and friend he is." The Gamut

"A merciful rendition of the basics of meditation transposed onto the craft of writing. Useful for anyone engaged in a long term creative endeavor, or indeed dealing with the inner game of life. Moore demonstrates how living with integrity, honesty and an inquiring spirit actually bring solace to the heart." Kate Wheeler, editor of Nixon Under the Bodhi Tree and Other Works of Buddhist Fiction

"Thought provoking and inspiring." Martine Batchelor, author of Let Go

I've been carrying this small, powerful book with me wherever I go. It's a stellar companion that keeps me on track, in writing and in life." Brenda Miller, author of Listening Against the Stone and co-author of The Pen and the Bell: Mindful Writing in a Busy World

Some books are a sheer pleasure to read. This one is a treasure of insights and beautifully worded ideas. It's also brief and handy. There's no reason to deny yourself this treat, whether you're a writer or a reader. The Mindful Writer will find its place on my shelf of writer's guides and inspirations." Thomas Moore, author of Care of the Soul

I recommend this book to anyone interested in the written word." -Lin Jensen, author of Deep Down Things, Pavement, and Bad Dog!

Three cheersand three bowsto Dinty W. Moore's Mindful Writer!"Rafe Martin, author of Endless Path and The Banyan Deer

I've read a hundred writing books, but this one is fresh." Mary Pipher, author of Seeking Peace: Chronicles of the Worst Buddhist in the World

Dinty W. Moore has collected some very telling nudges from a range of fine writers, and tilted them in a lightly Buddhist angle of reflection to catch the light of your own desire to write." Susan Murphy, author of Upside-Down Zen

What a relief! Dinty W. Moore shares practical strategies that help writers cultivate peace of mind and write better prose. Moore's light, insightful and prescient commentary is a potent antidote for writer's angst and a welcome companion for an otherwise lonely activity. Read on, then write!" Deborah Schoberlein, author of Mindful Teaching and Teaching Mindfulness

Dinty W. Moore has put together a pocket-size collection of quotes from figures who have spent years or decades writing their hearts out. Even seasoned, dog-eared writers and old Buddhist foxes will learn a trick or two. For the writer just setting forth, this book may be the best companion you could find." Andrew Schelling, Naropa University editor of The Wisdom Anthology of North American Buddhist Poetry

Moore condenses an entire library of writing advice into sixty deft lessons. I will urge this wise, kind, slender volume on all of my students." Heather Sellers, author of The Practice of Creative Writing

"The Mindful Writer will help you to keep faith in writing, to keep laying down word after word when it feels impossible." Writing Our Way Home

"A beautiful little book." Arnold Kozak, author of Wild Chickens and Petty Tyrants

"Moore understands the joy that comes with writing well, and this book does a lot to nurture writing minds. My advice is to have it next to your laptop or pen and paper and open it whenever you hit a wall and want a helping hand to understand." Wrong Like Right