Empty Rooms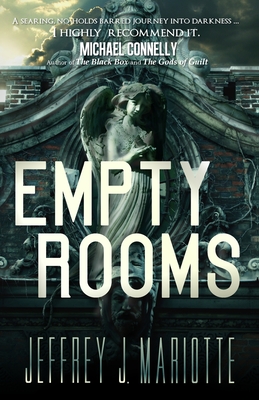 Empty Rooms
WordFire Press, Paperback, 9781614752349, 386pp.
Publication Date: November 14, 2014
* Individual store prices may vary.
Buy at Local Store
Enter your zip code below to purchase from an indie close to you.
or
Not Currently Available for Direct Purchase
Description
Richie Krebbs is an ex-cop, a walking encyclopedia of crime and criminals who chafes at bureaucracy. Frank Robey quit the FBI and joined the Detroit PD, obsessed with the case of a missing child and unwilling to leave the city before she was found. When Richie unearths a possible clue in one of Detroit's many abandoned homes, it puts him on a collision course with Frank -- and with depths of depravity neither man could have imagined.
How do people who dwell in the darkest places -- by profession or predilection -- maintain their connection to the world of light and humanity? Richie and Frank will need every coping mechanism at their disposal to survive their descent into darkness and emerge unbroken on the other side.
With Empty Rooms, bestselling award-winning novelist Jeffrey J. Mariotte introduces crime savant Krebbs and obsessive comic book fan Robey, who will quickly join the ranks of the most beloved heroes of thriller literature.

About the Author
Jeffrey J. Mariotte is the bestselling, award-winning author of more than 50 novels, including the supernatural thrillers Season of the Wolf, River Runs Red, Missing White Girl, and Cold Black Hearts, horror epic The Slab, thriller The Devil's Bait, the Dark Vengeance teen horror quartet, and many others. His most recent novel is Star Trek: Serpents in the Garden. He has also written short stories, nonfiction books, and well over 100 comic books and graphic novels. He has worked in virtually every aspect of the book and comic book businesses, as a bookseller, VP of marketing, senior editor, editor-in-chief, and co-owner of a specialty bookstore. He currently does freelance editing of comic books and novels and works as a publishing consultant in addition to maintaining a busy writing schedule. He lives in southeastern Arizona, and can be found online at http: //jeffmariotte.com, http: //www.facebook.com/JeffreyJMariotte, and @JeffMariotte on Twitte
Praise For Empty Rooms…
"Empty Rooms is a searing, no-holds barred journey into darkness ... a story about men who relentlessly work the case at the same time the case works them. I was pulled in from the start on this one and it never let up. I highly recommend it." -- Michael Connelly, author of The Black Box and The Gods of Guilt

"Empty Rooms is as good and moving as a thriller can be. Keenly observed and deftly written, it's something you'll want on your shelf as long as you have one. Mariotte's characters come off the page at you, and through them, the author spins a tale truly of our time. I couldn't put this one down." -- T. Jefferson Parker, author of The Jaguar and The Border Lords