One Magic Square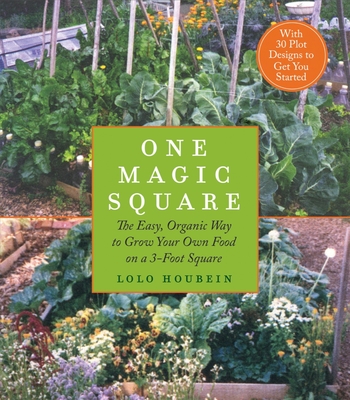 One Magic Square
The Easy, Organic Way to Grow Your Own Food on a 3-Foot Square
Experiment, Paperback, 9781615190126, 347pp.
Publication Date: March 9, 2010
* Individual store prices may vary.
Not Currently Available for Direct Purchase
or
Shop Local
Enter your zip code below to purchase from an indie close to you.
Description
A Hands-On Guide to Growing Organic Vegetables, Fruits and Herbs Starting with Just One Square Yard
Lolo Houbein has been growing food for more than 30 years and now, drawing on her wide learning and hard-earned experience, she offers a wealth of information on how to turn small plots of land into sources of nourishing, inexpensive, organic food. Amateur gardeners wondering how to get started and veteran gardeners looking for new ideas will be inspired by Houbein's practical, often charming, and always optimistic advice. "One Magic Square" includes:
Earth-friendly tips, tricks, and solutions for establishing and maintaining an organic garden
Illustrated, annotated plans for 30 plots with different themes including perennials and pick-and-come-again plants, anti-cancer and anti-oxidant-rich vegetables, and salad, pizza, pasta, and stir-fry ingredients
Comprehensive information about every plant in every plot
Color photographs of the author's own garden plus helpful illustrations
Houbein family recipes for making the most of your bounty including salad dressings, fruit and vegetable juices, stir-fries, and more.
About the Author
Lolo Houbein first learned about growing food from her Uncle Wim, whose garden saved the family from famine during World War II in Holland. In 1958, she emigrated to Australia with her husband and children. She studied literature and anthropology at the universities of Adelaide and Papua New Guinea, and has written numerous books and articles on humanitarian and conservation topics. Houbein lives and gardens in the Adelaide Hills of Australia.
Praise For One Magic Square…
The 30 'Magic Square' garden plots offer plenty of ideas, from a simple salad garden with a variety of lettuces, to gardens for soup, stir fry, root crops and more."
San Francisco Chronicle
So many gardening books feature plants' mile-long Latin names and confusing charts. Not this one. Its easy-to-follow instructions, diagrams, and photos inspire desire to grow good-for-the-body fresh produce from little yard space. A bonus: some delicious serving suggestions. One Magic Square tells you everything you need to get started and profiles each plant."
The Virginian-Pilot
Australian gardener Houbein has a personal and intimate understanding of food security, having survived famine during the Nazi occupation in Holland. She warns of the dangers of globalized, corporate agribusiness and 'aims to put you in control of the production of at least part of the food you need.'... The book provides basic gardening information and a wide variety of square-yard vegetable garden plans... [and is] as much a compilation of Houbein's gardening life as a straightforward step-by-step how-to manual. Like an eccentric but wise great aunt, at turns whimsically practical... Houbein offers much valuable advice."
Publishers Weekly
One Magic Square . . . enchants on many levels. Veggie gardeners (especially rookies) will benefit from Houbein's knowledge, which is informed by science and folk wisdom, as well as the breadth of its content (growing information, 30 design plots, many recipes). This single line could sustain us for life: 'Never garden in a mood of wanting to control everything.'"
The Chicago Tribune
From plot designs to starting seeds to composting, [One Magic Square] offers beginners a manageable way to get started with organic gardening. It also gives great advice on natural ways of keeping pests away, as well as useful vegetable groupings, even recipes."
The Post-Star
[Lolo Houbein] asserts that anyone can grow vegetables using only a plot about the size of one square yard. She offers good directions on what to put into compost, how often to turn it to speed the process, how to go about companion planting and intercropping, and how to pinch, thin, and prune plants to keep them in check . . . [and] includes plot plans for everything from cancer prevention and antioxidant plants to basic salad and soup ingredients, with instructions for where to plant what in each plot."
Northwest Arkansas Democrat-Gazette
Lolo Houbein's magic garden squares are creative, international, and a fun way to learn the magic of growing your own food."
Tanya Denckla, author of The Gardener's AZ Guide to Growing Organic Food
This timely guide will assist first-time and experienced gardeners in taking control of their own food supply at a time of...increasing fuel and food prices. Food gardening is the most intelligent adult endeavor on earthLolo Houbein shows you how to do it, and why you should."
EcoVoice (Australia)