Veggie Burgers Every Which Way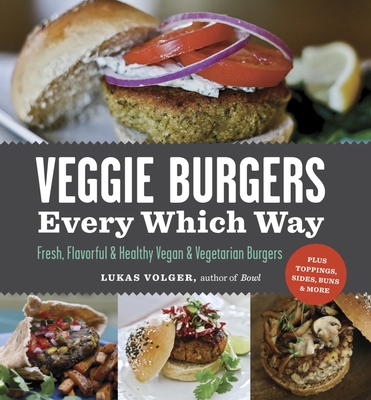 Veggie Burgers Every Which Way
Fresh, Flavorful & Healthy Vegan & Vegetarian Burgers: Plus Toppings, Sides, Buns & More
Experiment, Paperback, 9781615190195, 173pp.
Publication Date: July 2, 2010
* Individual store prices may vary.
Buy at Local Store
Enter your zip code below to purchase from an indie close to you.
or
Not Currently Available for Direct Purchase
Description
Tasty, Exciting, Inexpensive Veggie Burgers Every Which Way Whether you already subsist on veggie burgers, enjoy them occasionally, or ardently wish there was an alternative to the rubbery, over-processed frozen burgers sold in cardboard boxes, "Veggie Burgers Every Which Way" is the book for you one you ll want to cook from over and over again. Author Lukas Volger, who has been making and eating veggie burgers since he was a teenager, has assembled more than thirty unique, delicious veggie burger recipes, including: Red Lentil and Celery Root BurgersTofu and Chard BurgersBaked Falafel BurgersThai Carrot BurgersSweet Potato Burgers with Lentils and KaleCorn Burgers with Sun-Dried Tomatoes and Goat Cheese More than half the burger recipes are vegan and/or gluten-free, as are many of the extras, which include buns, sides, toppings, and condiments. Everyday ingredients ensure that all the burgers and extras are a breeze to assemble. The wide variety of tastes and flavors will excite every palate and suit every craving and occasion. And dozens of mouthwatering photographs leave no doubt that great-tasting veggie burgers can look spectacular, too
About the Author
Lukas Volger is the author of two other cookbooks, Veggie Burgers Every Which Way and Vegetarian Entrees that Won t Leave You Hungry; founder of Made by Lukas, the Brooklyn-based maker of premium veggie burgers; and editorial director of the biannual magazine Jarry. His accessible, whole foods-based approach to vegetarian cuisine has been featured in national and local print, radio, TV, and online, including The Splendid Table and The New York Times. He lives in Brooklyn.


Praise For Veggie Burgers Every Which Way…
This is a terrific book! I've never been a fan of veggie burgersneither the word veggie' nor the dry little disks with their strange little flavors. But Lukas Volger has just the right idea: Make real food with real flavorand burgers that go far beyond any microwavable snack. There's a lot to like in Veggie Burgers Every Which Way, including some very appealing sides, dressings, and, what else? Buns! I'm headed to my kitchen right now."
Deborah Madison, author of Vegetarian Cooking for Everyone and Vegetarian Suppers from Deborah Madison's Kitchen
Lukas Volger's burgers are made with real foodfresh produce, whole grains and beans, fresh herbs and spicescombined with imagination and great taste. This appealing book is the best collection of vegetarian burgers I've ever seen, a refreshing departure from the over-processed veggie burgers of yore."
Martha Rose Shulman, author of Recipes for Health, online at The New York Times, and of Mediterranean Harvest
The world of burgers has just grown bigger, fresher, more colorful, and deliciously diverse thanks to Lukas Volger's back-to-basics approach to the veggie burger. Summer barbecues may never look the same again!"
Cathy Erway, author of The Art of Eating In and the blog NotEatingOutinNY
Vegans and vegetarians (and others eating meatless) often resort to cooking frozen veggie burgers out of a box . . . [with Veggie Burgers Every Which Way], you can whip up the real deal: great-tasting colorful homemade variations with fresh produce, whole grains, beans, rice, bread crumbs, spices, and herbs. They will be as good as the ingredients that go into them . . . Appealing topping, side, dressing and bun options are included, too."
Los Angeles Daily News
One of Volger's best veggie burgers combines a variety of mushrooms and barley, combining foresty and nutty flavors you'd find in a wintertime wild mushroom soup . . . Try going back to eating one of those frozen soy burgers after that."
The Oregonian
Volger's excellent new book, Veggie Burgers Every Which Way, should not be thought of as just for vegetarians . . . it is the variety and creativity of the recipes that makes this new cookbook stand out. Recipes such as his Tuscan White Bean Burger . . . are sure to get just about any carnivore's mouth watering."
CBC News
Who knew shredded carrots or quinoa could be so deliciously molded into a pattie? And satisfy a dyed-in-the-wool carnivore."
Pittsburgh Post-Gazette
This is a small volume with a big mission: to up the flavor profile of this particular vegetarian genre."
Washington Post
Lukas Volger . . . elevates the vegetarian burger to its rightful status as real food."
Montreal Gazette