The Longest Race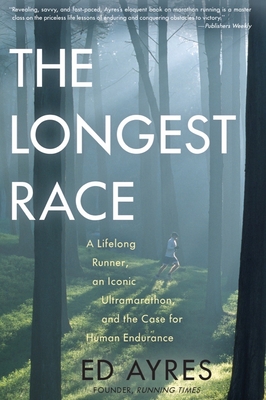 The Longest Race
A Lifelong Runner, an Iconic Ultramarathon, and the Case for Human Endurance
Experiment, Hardcover, 9781615190638, 256pp.
Publication Date: October 9, 2012
* Individual store prices may vary.
Buy at Local Store
Enter your zip code below to purchase from an indie close to you.
or
Not Currently Available for Direct Purchase
Description
Among endurance runners, there are thosewho have run very long distances, and thenthere are those who have run very long distancesfor a very long time. Ed Ayres exemplifies the latter; having run in over 600 races acrossfifty-five years, he is arguably the most experiencedAmerican distance runner still competingtoday. A book no one else could have written, The Longest Race is his urgent exploration of theconnection between individual endurance anda sustainable society.
The Longest Race begins at the starting lineof the 2001 JFK 50 Mile the nation's oldestand largest ultramarathon and, like other suchraces, an epic test of human limits and aspiration.At age sixty, his sights set on breaking theage-division record, Ayres embarks on a courseover the rocky ridge of the Appalachian Trail, along the headwind-buffeted towpath of thePotomac River, and past momentous Civil Warsites such as Harpers Ferry and Antietam.
But even as Ayres focuses on concerns familiarto every endurance runner starting strongand setting the right pace, the art of breathing, overcoming fatigue, mindfulness for the courseahead he finds himself as preoccupied withthe future of our planet as with the finish line ofthis 50-mile race.
A veteran journalist and environmentaleditor who harbors deep anxiety about our longtermprospects, Ayres helps us to understandhow the skills and mindset necessary to completean ultramarathon are also essential for grapplinganew with the imperative to endure not only asindividuals, but as a society and not just for 50miles, but in the longest race we are all calledupon to run.