Motherhood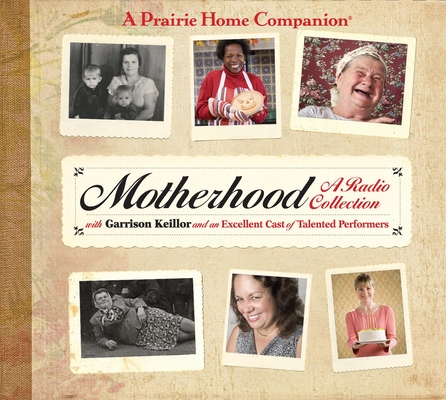 Motherhood
A Radio Collection
Highbridge Company, Compact Disc, Abridged, 9781615730407, 2pp.
Publication Date: March 2010
* Individual store prices may vary.
Shop Local
Enter your zip code below to find indies closest to you.
Description
Collected from live radio broadcasts of "A Prairie Home Companion," these humorous and heart-warming stories and songs celebrate the ups and downs of motherhood. Includes the News from Lake Wobegon, and guest appearances from Robin and Linda Williams, Inga Swearingen, Vern Sutton, Prudence Johnson, the Rankin Family, and more.
She brought you forth out of the cloud of genetics and fed and clothed you and taught you to wipe yourself and say Please and Thank You and never expected you to pay her back, only that you behave appropriately and try to make something of yourself and not land in prison but if you had, she d love you because after all she's your Mother.
Garrison Keillor

About the Author


GARRISON KEILLOR is America s favorite storyteller. For more than 35 years, as the host of "A Prairie Home Companion", he has captivated millions of listeners with his weekly News from Lake Wobegon monologues. "A Prairie Home Companion" is heard on hundreds of public radio stations, as well as America One, the Armed Forces Networks, Sirius Satellite Radio, and via a live audio webcast.Keillor is also the author of several books and a frequent contributor to national publications including "Time, The New Yorker, "and "National Geographic", in addition to writing his own syndicated column. He has been awarded a National Humanities Medal from the National Endowment of the Humanities. When not touring, he resides in St. Paul, Minnesota.