Literary Miscellany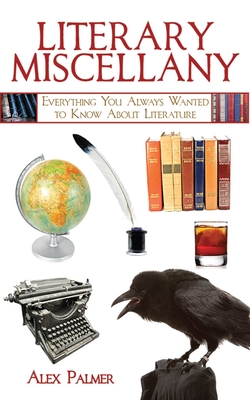 Literary Miscellany
Everything You Always Wanted to Know about Literature
Skyhorse Publishing, Hardcover, 9781616080952, 184pp.
Publication Date: October 27, 2010
* Individual store prices may vary.
Buy at Local Store
Enter your zip code below to purchase from an indie close to you.
or
Buy Here
Description
Wouldn't it be great to be a fly on the wall as the great writers took pen to paper (or fingers to keyboard)? While reading this work, you'll be just that. Here are behind-the-book stories and facts about authors, publishing and everything literary that will entertain both casual and serious readers. Among the questions asked and answered:
- When Did Literature Finally Get Sexy?
- Is Coffee or Opium Better for Literary Creativity?
- Why Are the Best Autobiographies so Embarrassing?
- Why Do Some Detectives Use Their Minds and Others Their Fists?
Who knew that bestseller lists and children's books could be the source of intense controversy? Or that even the biggest writers had to scrape by, with odd jobs and inventions like the Mark Twain Self-Pasting Scrapbook? In "Literary Miscellany," examine the trend of "fake memoirs," with a list of who lied about what, and a rogues' gallery of hoaxers dating back centuries. From epic poetry and Homer to pulp fiction and Harry Potter, "Literary Miscellany" is a breezy tour through the literature of today and yesterday, packed with enough interesting facts to entertain both the erudite professor and pleasure reader.
About the Author
Alex Palmer is a journalist and researcher based in Brooklyn, NY. Drawing on the photos, documents, and historical data he uncovered about the Santa Claus Association during his several years of research, he curated an exhibit about the group that ran for three months at Brooklyn s City Reliquary museum. It sketched the story fleshed out in The Santa Claus Man, and garnered extensive media attention. The Village Voice, Time Out New York, and Flavorpill all selected it as a Critic s Pick event. WNYC dedicated a major holiday radio piece to it (streaming at wny.cc/1bQIx5k), which included interviews with Palmer, his 82-year-old great aunt, and even children narrating the century-old Santa letters received by the Association. The exhibit was also a cover story for The Brooklyn Paper and received coverage in New York Magazine and The New York Daily News. Palmer has written two previous books, most recently Weird-o-Pedia (Skyhorse Publishing, 2012), for which he researched hundreds of unusual facts about familiar topics ranging from Coffee to Valentine s Day. The book received special distribution by Urban Outfitters, Spencer s Gifts, and The Johnson Smith Company, and was featured in Mental Floss magazine s online store, selling more than 10,000 copies to date. It received media attention in Publishers Weekly, The Seattle Post-Intelligencer, and numerous syndicated radio programs, on which Palmer was interviewed. For his first book, Literary Miscellany (Skyhorse Publishing, 2010), he researched authors, works, and genres to provide an entertaining but useful survey of the history of literature. Literary Miscellany was excerpted in the Thanksgiving weekend edition of USA Today as well as Writer s Digest, and he promoted it with several live readings throughout Manhattan. Palmer is a full-time freelance writer, and his work has appeared in The New York Daily News, USA Today, United Airlines new Rhapsody Magazine, The New York Post, The Rumpus, and Publishers Weekly. He s written specifically about New York history and culture for Time Out New York, The New York Times The Local blog, The Brooklyn Eagle, and The Queens Times-Ledger. He is the co-founder and nonfiction editor of the literary journal Fawlt Magazine (fawltmag.com), which has hosted several live events. He is also a member of the Society of Professional Journalists and New York City s Deadline Club. He maintains a blog (alexpalmerwrites.com) and Twitter account (@theAlexPalmer) where he posts his latest publications, Santa Claus Man research, and other bits of interest. Palmer has an enduring love for all things Christmas, and still feels a thrill when he hears the first holiday song of the season, even if it s in October.