Poorer Richard's America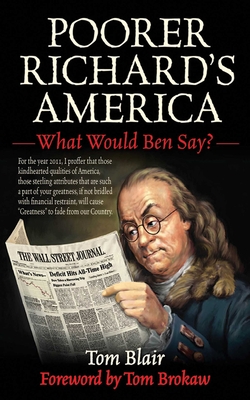 Poorer Richard's America
What Would Ben Say?
Skyhorse Publishing, Hardcover, 9781616081904, 220pp.
Publication Date: August 1, 2010
* Individual store prices may vary.
Buy at Local Store
Enter your zip code below to purchase from an indie close to you.
or
Not Currently Available for Direct Purchase
Description
For decades, Benjamin Franklin's "Poor Richard's Almanack" provided sage advice and commentary on eighteenth-century America. Now, a modern businessman reflectswriting as Benjamin Franklinon what America has become.
Federal and personal debt are ballooning beyond sustainable levels. Our futures are being jeopardized. Partisan bickering and the entrenched powers of special interests have made it nearly impossible for a real leader to lead. Where is a good American to turn? How about to the man who wrote this timeless observation: A small leak will sink a great ship ?
Ben is back With his signature intelligence and wit (not to mention a good sprinkling of aphorisms both old and new), Benjamin Franklin, through Tom Blair, moves from the national deficit to Wall Street, from health care to marital bliss. The result is electrifying.
About the Author
Tom Blair was born in England during World War II. His father, an American serviceman married to a young British girl, was killed at Normandy in 1944. He has been a tremendously successful businessman, starting and going public with several companies. As a long-term Washingtonian, he has keen insights into the political process, and clearly, Blair understands Wall Street, though he does not think of himself as a driven businessman. For him, business has always been a means to finance his passions, particularly American history, economics, and aviation. He has the world's largest personal collection of WWII British aircraft, many of which he flies. Blair has three children and fifteen grandchildren. He lives with his wife, Alice, in the Washington Metropolitan Area.

The New York Times is regarded as the world's preeminent newspaper. Its news coverage is known for its exceptional depth and breadth, with reporting bureaus throughout the United States and in 26 foreign countries. Winner of 106 Pulitzer Prizes, The Times has the largest circulation of any seven-day newspaper in the U.S.