Fit to Serve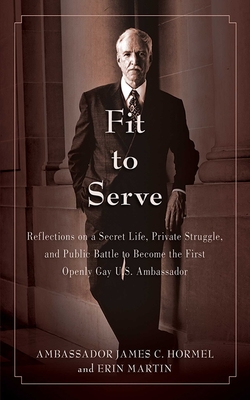 Fit to Serve
Reflections on a Secret Life, Private Struggle, and Public Battle to Become the First Openly Gay U.S. Ambassador
Skyhorse Publishing, Hardcover, 9781616083984, 320pp.
Publication Date: November 15, 2011
* Individual store prices may vary.
Buy Now
or
Shop Local
Enter your zip code below to purchase from an indie close to you.
Description
This is the memoir of James C. Hormel--a man who grew up feeling different not only because his family owned the Hormel "empire" and lived in a twenty-six-bedroom house in a small Midwest town, but because he was gay at a time when homosexuality was not discussed or accepted. Outwardly he tried to live up to the life his father wanted for him--he was a successful professional, had married a lovely woman, and had children--but as vola-tile changes in the late 1960s impeded on the American psyche, Hormel realized that he could not hide his true self forever.
Hormel moved to New York City, became an antiwar activist, battled homophobia, lost dear friends to AIDS, and set out to become America's first openly gay ambassador, a position he finally won during the Clinton administration. Today, Hormel continues to fight for LGBT equality and gay marriage rights. This is a passionate and inspiring true story of the determination for human equality and for attaining your own version of the American Dream--life, liberty, and the pursuit of happiness without exception.

About the Author
Ambassador James C. Hormel was born in Austin, Minnesota, in 1933. He has a law degree and worked as assistant dean and dean of students at the University of Chicago Law School. In 1995 he served as a U.S. delegate to the UN Commission on Human Rights. He served as U.S. ambassador to Luxembourg from 1999 2000. He also established the James C. Hormel Gay and Lesbian Center at the San Francisco Public Library. He currently works at an investment firm and devotes his time to philanthropy and Democratic politics. He lives in San Francisco, California.

Erin Martin is a former journalist for the Hartford Courage and also worked for U.S. Senator Christopher J. Dodd of Connecticut as a press secretary and speechwriter. She s worked on political development programs in post-apartheid South Africa and Namibia, for The September 11th Fund, and currently works for a Madison Avenue communications consultancy. She lives in New York City.

Wade Bourne is an award-winning outdoor writer as well as the founder and host of "Pros Pointers Radio", which airs nationwide year-round. A veteran television broadcaster, he has hosted a weekly hunting and fishing series for several years. He is the author of six books on hunting and fishing and contributes to several leading outdoor magazines. He lives in Clarksville, Tennessee.