The Goblin Corps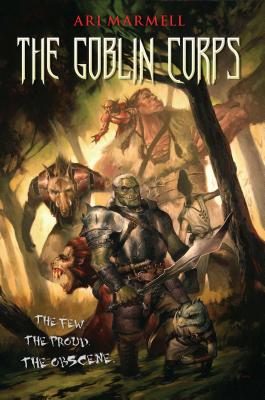 The Goblin Corps
Pyr, Paperback, 9781616143770, 552pp.
Publication Date: July 26, 2011
* Individual store prices may vary.
Buy at Local Store
Enter your zip code below to purchase from an indie close to you.
or
Buy Here
Description
Welcome to the Goblin Corps. May the best man lose.
Morthul, the dreaded Charnel King, has failed. Centuries of plotting from the heart of the Iron Keep, deep within the dark lands of Kirol Syrreth--all for naught. Foiled at the last by the bumbling efforts of a laughable band of so-called heroes. Still, after uncounted centuries of survival, the Dark Lord isn't about to go down without a fight, particularly in battle against a mortal
No, the Charnel King still has a few tricks up his putrid and tattered sleeves, and the only thing that can defeat him now may just be the inhuman soldiers on whom he's pinned his last hopes.
About the Author
Ari Marmell vit a Austin (Texas) dans un appartement, presque aussi encombre que son inconscient, qu'il partage (l'appartement, pas l'inconscient) avec sa femme et deux chats, qui auraient fortement besoin d'un controle de volume integre.
Praise For The Goblin Corps…
"There truly is never a dull moment in The Goblin Corps.... I haven't enjoyed a quest fantasy this much since I read David Eddings back in middle school. Marmell has the wit and charm of Eddings's stories coupled with the grittiness of Joe Abercrombie or Sam Sykes and a narrative style that is completely his own. If you ever wished that Brandon Sanderson or David Eddings could be a tad bitter more realistic in content, or Scott Lynch and Joe Abercrombie a tad bit funnier then you will love the way that Marmell has struck a wonderful balance between the two. I haven't laughed so hard or been so into a book in many a year. Highly recommended!"
- Grasping for the Wind

"To my relief, The Goblin Corps possesses the same elements that made [Marmell's] The Conqueror's Shadow so much fun to read…a comical David Eddings-like humor, and Joe Abercrombie's kick-ass grittiness.... The Goblin Corps embraces its dark side-and thrives because of it.... The Goblin Corps is must-read material for anyone who is a fan of Joe Abercrombie and likes seeing fantasy tropes viciously subverted. Don't let the Abercrombie comparisons fool you either. Ari has his own style which he is perfecting, and if he can continue writing books like...The Goblin Corps, then I wouldn't be surprised if exciting new fantasy authors were one day compared to Ari Marmell..."
- Fantasy Book Critic

"Marmell has a clever sense of humor and writing, and the prose is good throughout…When the squad gets into fights, the text really shines as we get to see what tactics and strategy (or lack thereof) a squad of evil humanoids with little in common with each other would actually use. These scenes in particular are a glorious mess of chaotic fun. Rooting for the bad guys to take down a paragon of Light was never so much a guilty pleasure." 3.5/5 stars 
- SF Signal 

"This is a book that took me by surprise - I simply wasn't expecting to be taken in this type of story and at first glance utterly unlikeable characters. My prejudice only helped Marmell show me how little I know myself. I loved it…the stylistically effective prose, witty dialogue and vibrant action make, on the whole, for some highly pleasurable reading. Highly recommended." 4.5/5
-LEC Book reviews