National Security, Civil Liberties, and the War on Terror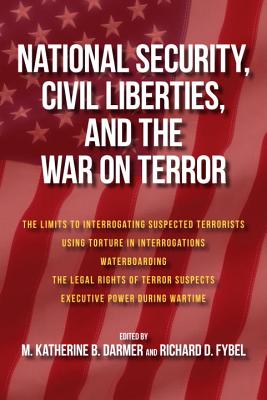 National Security, Civil Liberties, and the War on Terror
Prometheus Books, Paperback, 9781616143961, 472pp.
Publication Date: May 24, 2011
* Individual store prices may vary.
Buy at Local Store
Enter your zip code below to purchase from an indie close to you.
or
Buy Here
Description
This timely collection of recent articles and judicial commentary provides a balance of perspectives on concrete issues under the umbrella of national security and civil liberties. It includes court judgments as well as opinion pieces both from those who believe the United States needs to be more protective of civil liberties and also from those who argue that national security concerns are paramount. It addresses some of the most hotly debated issues of the day, including the detentions at Guantanamo Bay, the use of torture, holding enemy combatants indefinitely, the question of whether terrorism suspects should be given the Miranda warnings, and the limits of executive power during wartime. To stress the importance of an impartial, independent judiciary, Richard Fybel explains the history of the German judiciary and judges during the Nazi Era.
This balanced selection of expert opinion from widely recognized and respected authors will inform and educate readers on this critical topic. It will be especially useful for undergraduate courses in political philosophy, political science, and criminal justice, as well as law school courses addressing issues of the constitutional balance of powers, national security, interrogation practices, due process and habeas corpus.
About the Author
M. Katherine B. Darmer (Newport Beach, CA) is associate professor at the Chapman University School of Law and formerly an Assistant United States Attorney in New York, NY. Her most recent article is "Beyond Bin Laden and Lindh: Confessions Law in an Age of Terrorism."