They Stood Alone!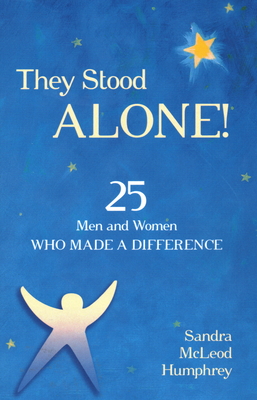 They Stood Alone!
25 Men and Women Who Made a Difference
Prometheus Books, Paperback, 9781616144852, 176pp.
Publication Date: November 2011
* Individual store prices may vary.
Buy Now
or
Shop Local
Enter your zip code below to purchase from an indie close to you.
Description
Nicolaus Copernicus and Elizabeth Cady Stanton are just two of the twenty-five extraordinary men and women whom you will have a chance to meet in this inspiring book that explores and celebrates people who had the courage to follow their own convictions, even when everyone around them said they were wrong. They were people of vision who saw life from a new perspective and were willing to question conventional wisdom. And their revolutionary breakthroughs changed and shaped the course of history.
Author Sandra McLeod Humphrey invites you to have the courage to stand alone too, hold on to your dreams, and follow your heart wherever it may lead. Like the twenty-five pioneers who lived before you, you too may someday make a difference.
About the Author
Humphrey is a retired clinical psychologist.
Praise For They Stood Alone!…
"Seldom, if ever, do kids have a vision without a role model. Sandra McLeod Humphrey's book They Stood Alone! provides kids everywhere with extraordinary people who had beliefs and convictions and stood by them to make an enormous difference. These stories will galvanize youngsters to action!"
-GENE BEDLEY, 1986 National Educator of the Year

"This is a book of hope . . . that is driven by intrinsic motivation, a desire to give rather than take from the world, and a deep belief in the difference that one person can make when an ability, an idea, or a goal is taken to its highest level."
-DONALD DRAAYER, PHD, former superintendent of Minnetonka Schools, 24 years, and 1990 National Superintendent of the Year

"They Stood Alone! is a book all young people should read. It contains the stories of real-life heroes and heroines who showed the courage and inspiration to truly make a difference in the world. The twenty-five men and women featured in this book are an eclectic group ranging from scientists and explorers to civil rights activists and authors. Their dedication and commitment encourage all of us to strive to do our best and to live a meaningful life."
-PHILIP BIGLER, 1998 National Teacher of the Year

"Powerful and significant. A must-read for all."
-TERRY HITCHCOCK, motivational speaker, author, and consultant

"I highly recommend this inspiring book. It should be in the hands of every parent, teacher, and child advocate who cares about our children's moral futures!"
-MICHELE BORBA, EDD, author of The Big Book of Parenting Solutions and Building Moral Intelligence: The Seven Essential Virtues That Teach Kids to Do the Right Thing