Thief's Covenant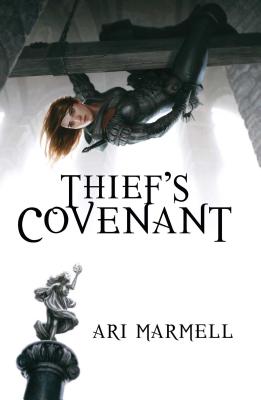 Thief's Covenant
A Widdershins Adventure
Pyr, Hardcover, 9781616145477, 273pp.
Publication Date: February 21, 2012
* Individual store prices may vary.
Buy at Local Store
Enter your zip code below to purchase from an indie close to you.
or
Buy Here
Description
Once she was Adrienne Satti. An orphan of Davillon, she had somehow escaped destitution and climbed to the ranks of the city's aristocracy in a rags-to-riches story straight from an ancient fairy tale. Until one horrid night, when a conspiracy of forces--human and other--stole it all away in a flurry of blood and murder. Today she is Widdershins, a thief making her way through Davillon's underbelly with a sharp blade, a sharper wit, and the mystical aid of Olgun, a foreign god with no other worshippers but Widdershins herself. It's not a great life, certainly nothing compared to the one she once had, but it's hers.
But now, in the midst of Davillon's political turmoil, an array of hands are once again rising up against her, prepared to tear down all that she's built. The City Guard wants her in prison. Members of her own Guild want her dead. And something horrid, something dark, something ancient is reaching out for her, a past that refuses to let her go.
Widdershins and Olgun are going to find answers, and justice, for what happened to her--but only if those who almost destroyed her in those years gone by don't finish the job first.
About the Author
Ari Marmell vit a Austin (Texas) dans un appartement, presque aussi encombre que son inconscient, qu'il partage (l'appartement, pas l'inconscient) avec sa femme et deux chats, qui auraient fortement besoin d'un controle de volume integre.
Praise For Thief's Covenant…
"[T]he plot is relentless and the characters likable. . . . [A] classic adolescent journey. For teens already reading adult fantasy but wanting something a bit more on their level, this hits the spot perfectly."
 —Kirkus Reviews

"I wouldn't be surprised if exciting new fantasy authors were one day compared to Ari Marmell."
 —Fantasy Book Critic

"Marmell has a clever sense of humor."
 —SF Signal

"Marmell's debut YA novel is a dark, brutal fantasy set in a complex and engaging world…Widdershins is an intriguing heroine, able to handle herself on the streets, though her naïveté shows at endearing moments. Readers seeking out a strong heroine in a well-crafted fantasy world will enjoy this title and look forward to the second."
—School Library Journal 

"Widdershins is not your average heroine. Adept with her blade and her wits, sassy and sensitive, she should appeal to older teens both male and female."
—RT Book Reviews, Three Stars (ENJOYABLE- Pleasant Read) 


"An interesting world is created in Thief's Convenant, with many twisting conflicts that converge into one. …The setting is a very enjoyable city that every fantasy lover would embrace without a thought. All of the characters are lively, and everyone will love Olgun, Widdershin's personal god."
—Sacramento Book Review/ San Francisco Book Review