Lance of Earth and Sky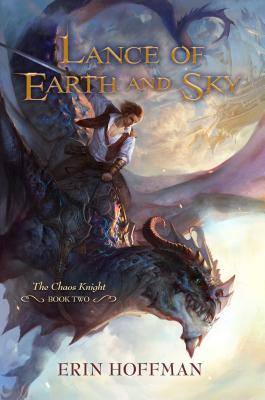 Lance of Earth and Sky
Pyr, Paperback, 9781616146153, 319pp.
Publication Date: April 2012
* Individual store prices may vary.
Buy Now
or
Shop Local
Enter your zip code below to purchase from an indie close to you.
Description
In the sequel to "Sword of Fire and Sea," Vidarian Rulorat faces the consequences of opening the gate between worlds. Called into service by the desperate young emperor of Alorea, Vidarian must lead sky ships in a war against the neighboring southern empire, train the demoralized imperial Sky Knights to ride beasts that now shapeshift, master his own amplified elemental magic, and win back Ariadel--all without losing his mind.
About the Author
Author and video game designer Erin Hoffman was born in San Diego and now lives with her husband, two parrots, and two dogs in northern California. She is the author of the Chaos Knight series from Pyr books, beginning with "Sword of Fire and Sea", followed by "Lance of Earth and Sky" in April 2012 and "Shield of Sea and Space" in 2013.
Her video game credits include "DragonRealms, " "Shadowbane: The Lost Kingdom", "GoPets: Vacation Island", "Kung Fu Panda World", and "FrontierVille". She writes for the award-winning online magazine "The Escapist", and has had fiction and poetry in Asimov s "Science Fiction", " Electric Velocipede", " Beneath Ceaseless Skies, " and more. In 2004 her blog on game industry quality of life, ea_spouse, was covered by the "New York Times", "Wall Street Journal", and "LA Times", and is now referenced in numerous game history and corporate history studies.
Erin s games have won multiple awards and have been played by millions of kids and adults worldwide. She is multiethnic, with family names including Lee, Asakawa (yonsei), and Drake in addition to Hoffman.
Praise For Lance of Earth and Sky…
Praise for the series:

"If you like hard-hitting fantasy adventure with a lot of magic, this is your series."
-Piers Anthony, Bestselling author of the Xanth series

"Sword of Fire and Sea is fantasy adventure in the classic tradition, and Erin Hoffman is a fine storyteller. Read it and be swept away."
-Allen Steele, Hugo Award-winning author of the Coyote series

". . . a thoroughly enjoyable read, with an intriguing new world and civilization."
-Violette Malan, Author of the Dhulyn and Parno books

"A high magic adventure with relentless action, exuberance and occasional over the top scenes that work well here. …A and highly recommend to anyone looking for a fun adventure with lots of magic and a little romance added in the mix."
-Fantasy Book Critic

"An incredibly exciting and compelling read."
-That Bookish Girl