Nebula Awards Showcase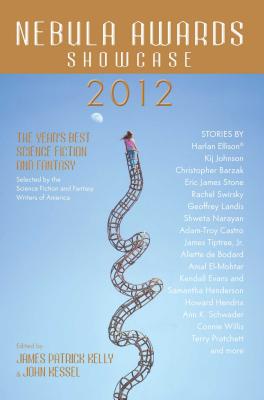 Nebula Awards Showcase
Pyr, Paperback, 9781616146191, 335pp.
Publication Date: May 2012
* Individual store prices may vary.
Shop Local
Enter your zip code below to find indies closest to you.
Description
The Year's Best Science Fiction and Fantasy Selected by the Science Fiction and Fantasy Writers of America®.

The Nebula Awards Showcase volumes have been published annually since 1966, reprinting the winning and nominated stories in the Nebula Awards, voted on by the members of the Science Fiction and Fantasy Writers of America. The editors selected by SFWA's anthology committee (chaired by Mike Resnick) are John Kessel and James Patrick Kelly, both highly acclaimed not only for their own award-winning fiction but also as coeditors of three anthologies: Feeling Very Strange: The Slipstream Anthology, Rewired: The Post-Cyberpunk Anthology, and The Secret History of Science Fiction.

Stories and excerpts by Harlan Ellison™, Kij Johnson, Chris Barzak, Eric James Stone, Rachel Swirsky, Geoff Landis, Shweta Narayan, Adam Troy-Castro, James Tiptree Jr., Aliette de Bodard, Amal El-Mohtar, Kendall Evans and Samantha Henderson, Howard Hendrix, Ann K. Schwader, Connie Willis, Terry Pratchett, and more.
About the Author
James Patrick Kelly is the author of many novels and short stories, including "Look Into the Sun", the Hugo-winning "Think Like a Dinosaur," and the Nebula-winning "Burn". He lives in New Hampshire.

John Kessel lives in Raleigh, North Carolina.

Harlan Ellison has been called one of the great living American short story writers by the "Washington Post". In a career spanning more than fifty years, he has won more awards than any other living fantasist. Ellison has written or edited one hundred fourteen books; more than seventeen hundred stories, essays, articles, and newspaper columns; two dozen teleplays; and a dozen motion pictures. He has won the Hugo Award eight and a half times (shared once); the Nebula Award three times; the Bram Stoker Award, presented by the Horror Writers Association, five times (including the Lifetime Achievement Award in 1996); the Edgar Allan Poe Award of the Mystery Writers of America twice; the Georges Melies Fantasy Film Award twice; and two Audie Awards (for the best in audio recordings); and he was awarded the Silver Pen for Journalism by PEN, the international writers union. He was presented with the first Living Legend Award by the International Horror Critics at the 1995 World Horror Convention. Ellison is the only author in Hollywood ever to win the Writers Guild of America award for Outstanding Teleplay (solo work) four times, most recently for Paladin of the Lost Hour, his "Twilight Zone" episode that was Danny Kaye s final role, in 1987. In 2006, Ellison was awarded the prestigious title of Grand Master by the Science Fiction and Fantasy Writers of America. "Dreams With Sharp Teeth", the documentary chronicling his life and works, was released on DVD in May 2009.
Praise For Nebula Awards Showcase…
"From the cover by Nebula-winning artist Michael Whelan to the very last page, this remarkable anthology is filled with the very best of the SF and fantasy published in 2010.... [A]ll the inclusions are outstanding works of fiction."
- Publishers Weekly starred review

"[A]n impressively diverse collection...You want the best of the best new science fiction and fantasy? It's right here."
- Explorations: Barnes and Noble SciFi and Fantasy blog

"...if Nebula Awards Showcase 2012 represents the genre as it stands today, the future has never been brighter.... These stories are singularly brilliant and immensely creative."
- Sacramento/San Francisco Book Review

"No science fiction collection should be without this definitive survey!"
- The Bookwatch

"As one expects, the Nebula Awards Showcase is a volume of splendid stories covering the gamut of genres.... there are several fine examples of genre poetry; there are excerpts from two delightful novels..."
-Booklist 
 
"Attesting to the high quality of contemporary imaginative fiction, this is an important tool for readers' advisory, collection development, and expanding readers' sf and fantasy horizons."
-Library Journal