The Science of Consequences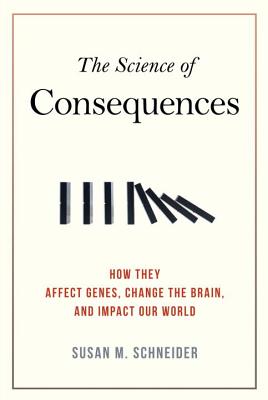 The Science of Consequences
How They Affect Genes, Change the Brain, and Impact Our World
Prometheus Books, Paperback, 9781616146627, 383pp.
Publication Date: November 20, 2012
* Individual store prices may vary.
Buy at Local Store
Enter your zip code below to purchase from an indie close to you.
or
Not Currently Available for Direct Purchase
Description
Children quickly learn that actions have consequences. This elementary lesson is repeated again and again throughout adulthood as we adjust our behaviors according to the reactions they produce in the social and natural environment. Now, an internationally recognized biopsychologist, tells the story of how something so deceptively simple can help make sense of so much.
Despite their variety, consequences appear to follow a common set of scientific principles and share some similar effects in the brain (specifically, in the so-called pleasure centers). Based on these principles, Schneider and other scientists have been able to create mathematical models of certain behaviors. And they have demonstrated that learning from consequences predictably activates genes and restructures the neural configuration of the brain--in humans as well as in animals. Consequences are an integral part of the nature-and-nurture system.
The knowledge gained from this newly expanded science has many applications, as the author shows in examples from the home, the hospital, the classroom, and the boardroom. The science of consequences helps fight prejudice, free addicts of their destructive habits, and treat depression. It enriches the lives of pets and zoo animals. It also sheds light on our biggest societal challenges, where we must choose between short-term and long-term consequences.
Featuring illustrative human, pet, and wild-animal anecdotes, this book is a unique and fascinating introduction to a science that is truly epic in scope.
About the Author
Susan M. Schneider, PhD (Stockton, CA), a biopsychologist and naturalist, has an international reputation in nature-nurture relations, mathematical modeling of animal behavior, and the principles of learning from consequences. She was a friend of B. F. Skinner, who mentored her at the start of her academic career. Schneider is currently a visiting scholar at the University of the Pacific. She has been a professor at St. Olaf College, Auburn University, and Florida International University, and a visiting research fellow at the University of Auckland.
Praise For The Science of Consequences…
"A wide-ranging and highly entertaining guide to the many ways that the behavior of humans and other animals - from bugs to bonobos - is shaped by consequences. . . . An enjoyable and enlightening book for anyone who is curious about behavior and what makes it tick."
- Mark S. Blumberg, author of Freaks of Nature and editor in chief of Behavioral Neuroscience


"This engaging, thoroughly researched book could not be more timely or useful. . . . Bringing the timeless contributions of B. F. Skinner into the twenty-first century, [Schneider] shows how the relationship between the brain and behavior is a two-way street, how change really happens, and why a proper understanding of consequences can improve our lives, relationships, and society."
- Carol Tavris, coauthor of Mistakes Were Made (but Not by Me)


"A remarkable book. Skinner might have won over far more people had he had The Science of Consequences in his arsenal. It's marvelous."
- Paul Chance, former editor of Psychology Today and author of Learning and Behavior


"This book is a kind of love letter to a simple yet profound truism, and it explains how consequences influence not only our behavior but our brains as well."
- Amy Sutherland, author of What Shamu Taught Me about Life, Love, and Marriage


"This book will be an eye-opener. . . . [Schneider] shows how flatworms, rhinos, day-old infants, and adults with dementia - all creatures great and small - are in the business of getting rewards. . . . With telling examples from everyday life . . . this book places the puzzling miscellany of human experience in much-needed context."
- George Ainslie, author of Picoeconomics


"With humor and compassion . . . [Schneider] demonstrates the power and subtlety of the science of consequences, showing how its principles can be mobilized to improve and enrich our lives."
- Eva Jablonka, coauthor of Evolution in Four Dimensions


"While the research in this area often can be difficult to digest, Schneider's writing style, everyday examples, and humor make it easy. I truly enjoyed this book; it's an important contribution to advancing understanding about the fundamental laws of behavior. A good read on an important topic."
- Aubrey C. Daniels, author of Bringing Out the Best in People