The Doctor and the Dinosaurs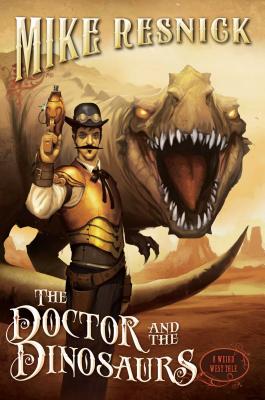 The Doctor and the Dinosaurs
Pyr, Paperback, 9781616148614, 303pp.
Publication Date: December 10, 2013
* Individual store prices may vary.
Buy at Local Store
Enter your zip code below to purchase from an indie close to you.
or
Not Currently Available for Direct Purchase
Description
Welcome to a Steampunk wild west starring Doc Holliday, with zombies, dinosaurs, robots, and cowboys.


The time is April, 1885. Doc Holliday lies in bed in a sanitarium in Leadville, Colorado, expecting never to leave his room again. But the medicine man and great chief Geronimo needs him for one last adventure. Renegade Comanche medicine men object to the newly-signed treaty with Theodore Roosevelt. They are venting their displeasure on two white men who are desecrating tribal territory in Wyoming. Geronimo must protect the men or renege on his agreement with Roosevelt. He offers Doc one year of restored health in exchange for taking on this mission.

Welcome to the birth of American paleontology, spearheaded by two brilliant men, Edward Drinker Cope and Othniel Charles Marsh, two men whose genius is only exceeded by their hatred for each other's guts. 

Now, with the aid of Theodore Roosevelt, Cole Younger, and Buffalo Bill Cody, Doc Holliday must save Cope and Marsh not only from the Comanches, not only from living, breathing dinosaurs, but from each other. And that won't be easy.
About the Author
Janis Ian began her career as a singer-songwriter in the 1960s with "Society's Child." In 1975, she won her first Grammy Award for the self-penned song, "At Seventeen" . Since then she has had #1 hits all over the world, sold more than 10 million albums, and had her songs recorded by such diverse artists as Bette Midler, Roberta Flack, and John Mellencamp. She shows no signs of slowing down, recently beginning yet another career as an audio book narrator (which earned her a ninth nomination and second Grammy in 2013 for Society's Child: My Autobiography). Among her current projects are The Tiny Mouse, her first children's book; a series of master classes with the Stella Adler School; tours of Europe, the United Kingdom, and Japan, a young adult novel, and a series of new recordings.
Praise For The Doctor and the Dinosaurs…
"Delightful—a potential blockbuster...."
—Kirkus Reviews

"The latest entry in Resnick's steampunk series featuring historical figures of America's Old West continues to showcase the author's grasp of the art of storytelling, particularly of the tall tale. Throw in some shamanic magic, zombies, and dinosaurs, and the result is a rollicking steampunk adventure for fans of American history and Westerns." 
—Library Journal STARRED REVIEW

Praise for the Weird West Tales:

"A mad mixture of steampunk and magic set in an alternate Wild West, this is hugely entertaining and should please fans of SF and westerns."
-Booklist, starred review

"A fast, fun, and often-amusing tale where Wild West meets steampunk. . . . A modernday tall tale with the requisite larger-than-life characters."
-Miami Herald

"A unique world where alternate history and actual historical facts blend seamlessly. …The Weird West series is pure fun and possesses cross genre appeal—a great choice for a light, witty read."
-Historical Novel Society

"Fast guns, fast plotting, and a comfortably entertaining writing style make this novel a rollicking western with a steampunk tweak." 
-Publishers Weekly