The Aleppo Codex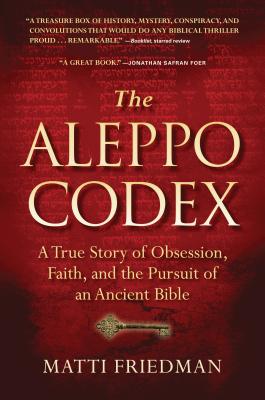 The Aleppo Codex
A True Story of Obsession, Faith, and the Pursuit of an Ancient Bible
Algonquin Books of Chapel Hill, Hardcover, 9781616200404, 298pp.
Publication Date: May 15, 2012
* Individual store prices may vary.
Buy at Local Store
Enter your zip code below to purchase from an indie close to you.
or
Not Currently Available for Direct Purchase
Description
Winner of the 2014 Sami Rohr Prize for Jewish LiteratureA thousand years ago, the most perfect copy of the Hebrew Bible was written. It was kept safe through one upheaval after another in the Middle East, and by the 1940s it was housed in a dark grotto in Aleppo, Syria, and had become known around the world as the Aleppo Codex.Journalist Matti Friedman's true-life detective story traces how this precious manuscript was smuggled from its hiding place in Syria into the newly founded state of Israel and how and why many of its most sacred and valuable pages went missing. It's a tale that involves grizzled secret agents, pious clergymen, shrewd antiquities collectors, and highly placed national figures who, as it turns out, would do anything to get their hands on an ancient, decaying book. What it reveals are uncomfortable truths about greed, state cover-ups, and the fascinating role of historical treasures in creating a national identity.
About the Author
Matti Friedman s first book, "The Aleppo Codex, " won the Sami Rohr Prize, the American Library Association s Sophie Brody Medal, and the Canadian Jewish Book Award. It was selected as one of "Booklist" s top ten religion and spirituality titles in 2013 and received second place for the Religion Newswriters Association s 2013 nonfiction religion book of the year. The book was published in Israel, Australia, Holland, France, Germany, the Czech Republic, Russia, and South Korea. Friedman has worked as a correspondent in the Jerusalem bureau of the Associated Press news agency, where he specialized in religion and archaeology, and reported from Lebanon to Morocco, Cairo, Moscow, and Washington, D.C., as well as Israel, the Palestinian territories, and the Caucasus. In addition to the AP, his work has appeared in the" Atlantic" and the" New York Times", among other publications. Friedman grew up in Toronto, moved to Israel as a teenager, and served three years in the Israeli military. Today he lives in Jerusalem with his wife and three children. He lectures frequently in Israel, the United Kingdom, and the United States.