The Transcriptionist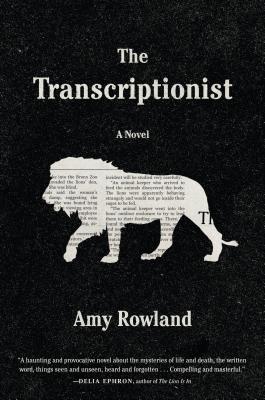 The Transcriptionist
Algonquin Books of Chapel Hill, Hardcover, 9781616202545, 246pp.
Publication Date: May 13, 2014
* Individual store prices may vary.
Buy Now
or
Shop Local
Enter your zip code below to purchase from an indie close to you.
Description
A haunting and provocative novel about the mysteries of life and a death, the written word, things seen and unseen, heard and forgotten. Amy Rowland's writing is compelling and masterful. Delia Ephron, author of "The Lion Is In"Once, there were many transcriptionists at the "Record, " a behemoth New York City newspaper, but new technology and the ease of communication has put most of them out of work. So now Lena, the last transcriptionist, sits alone in a room--a human conduit, silently turning reporters recorded stories into print--until the day she encounters a story so shocking that it shatters the reverie that has become her life.This exquisite novel, written by a woman who spent more than a decade as a transcriptionist at the "New York Times, " asks probing questions about journalism and ethics, about the decline of the newspaper and the failure of language. It is also the story of a woman's effort to establish her place in an increasingly alien and alienating world. A strange, mesmerizing novel about language, isolation, ethics, technology, and the lack of trust between institutions and the people they purportedly serve . . . A fine debut novel about the decline of newspapers and the subsequent loss of humanity--and yes, these are related. "Booklist, " starred review Ambitious and fascinating . . . Disturbing and powerful . . . Recommended for fans of literary fiction. "Library Journal" Rowland's farcical approach . . . is balanced by the novel's realistic insights into journalistic integrity, the evolution of contemporary newspaper publishing, and, more broadly, the importance of genuine communication. "Publishers Weekly" Unforgettable. Written with such delight, compassion, and humanity, it's newsworthy. Alex Gilvarry, author of "From the Memoirs of a Non-Enemy Combatant.
About the Author
Amy Rowland has spent more than a decade at the" New York Times", where she worked, notably, as a transcriptionist before moving to the Book Review. Her articles have appeared in numerous publications, including the "New York Times, " the "Smart Set", and the "Utne Reader". She lives in New York City.