This Is Your Life, Harriet Chance!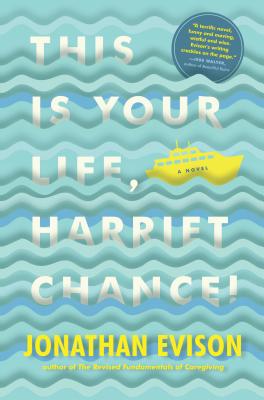 This Is Your Life, Harriet Chance!
Algonquin Books, Hardcover, 9781616202613, 304pp.
Publication Date: September 8, 2015
* Individual store prices may vary.
Buy Now
or
Shop Local
Enter your zip code below to purchase from an indie close to you.
Description
Jonathan Evison is a ridiculously gifted storyteller: racing, breathless, and vibrant with his prose, hungry for personal truths, and clearly in love with the world around us all. That compassion and those writerly charms are deeply felt in "This Is Your Life, Harriet Chance , " an irresistible, inventive novel full of important ideas about how we live our lives as parents, children, partners, and human beings. Jami Attenberg, author of "The Middlesteins" With Bernard, her husband of fifty-five years, now in the grave, seventy-eight-year-old Harriet Chance impulsively sets sail on an ill-conceived Alaskan cruise that her late husband had planned. But what she hoped would be a voyage leading to a new lease on life becomes a surprising and revelatory journey into Harriet's past. There, amid the overwhelming buffets and the incessant lounge singers, between the imagined appearances of her late husband and the very real arrival of her estranged daughter midway through the cruise, Harriet is forced to take a long look back, confronting the truth about pivotal events that changed the course of her life. And in the process she discovers that she's been living the better part of that life under entirely false assumptions. In "This Is Your Life, Harriet Chance " Jonathan Evison has crafted a bighearted novel with an endearing heroine at the helm. Through Harriet, he paints a bittersweet portrait of a postmodern everywoman, her story told with great warmth, humanity, and humor. Part dysfunctional love story, part poignant exploration of the mother-daughter relationship, nothing is what it seems in this tale of acceptance, reexamination, and forgiveness.
About the Author
JONATHAN EVISON is an American writer known for his novels All About Lulu (winner of the Washington State Book Award), West of Here (New York Times bestseller, winner of the Pacific Northwest Booksellers Award and the Booklist Editor s Choice Award) and The Revised Fundamentals of Caregiving (currently in development for film). In 2009 and 2011 he was nominated by the American Book Association as Most Engaging Author. In his teens, Evison was a founding member and frontman of the Seattle punk band March of Crimes, which included future members of Pearl Jam and Soundgarden. Born in San Jose, California, he now lives on an island in western Washington with his family. His latest novel, This Is Your Life, Harriet Chance!, will be published in September 2015.
Praise For This Is Your Life, Harriet Chance!…
"This Is Your Life, Harriet Chance! is a terrific novel, funny and moving, wistful and wise. Jonathan Evison's writing crackles on the page." —Jess Walter, author of Beautiful Ruins

"An insightful, richly entertaining look at a woman who, very late in the game, finds that life remains full of surprises . . . Evison writes humanely and with good humor of his characters, who, like the rest of us, muddle through, too often without giving ourselves much of a break. A lovely, forgiving character study that's a pleasure to read." —Kirkus Reviews, starred review

"This Is Your Life, Harriet Chance! has all the wonderful snap and sizzle we've come to expect from Jonathan Evison's work, and as much heart as any novel I've read in recent years. Evison packs an entire life--many lives--into this fine book, and does so with the empathy and insight of a writer at the top of his game." —Ben Fountain, author of Billy Lynn's Long Halftime Walk

"Once again, Jonathan Evison dazzles. This Is Your Life, Harriet Chance! is as sweet as it is inventive, profound as it is hilarious, unflinching as it is big-hearted. Step right up, don't be shy! Take the hand of Evison's delightfully menacing master of ceremonies and let him lead you into the kaleidoscopic journey of your life." —Maria Semple, author of Where'd You Go, Bernadette

"A generous and wise tale, told with Evison's trademark verve and charisma, This Is Your Life, Harriet Chance! is a deeply felt and deeply comforting novel." —Patrick Dewitt, author of The Sisters Brothers

"Jonathan Evison is a ridiculously gifted storyteller: racing, breathless, and vibrant with his prose, hungry for personal truths, and clearly in love with the world around us all. That compassion and those writerly charms are deeply felt in This Is Your Life, Harriet Chance!, an irresistible, inventive novel full of important ideas about how we live our lives as parents, children, partners, and human beings." —Jami Attenberg, author of The Middlesteins
Saturday, Sep 5, 2015
NPR's Scott Simon talks to Jonathan Evison about his new novel, This Is Your Life, Harriet Chance, in which the title character finds herself on an Alaskan cruise with the ghost of her husband and a daughter she can't trust. More at NPR.org