The Receptionist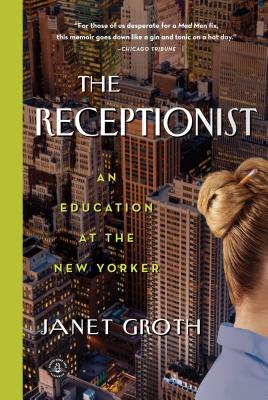 The Receptionist
An Education at the New Yorker
Algonquin Books of Chapel Hill, Paperback, 9781616203061, 240pp.
Publication Date: June 11, 2013
* Individual store prices may vary.
Buy Now
or
Shop Local
Enter your zip code below to purchase from an indie close to you.
Description
In 1957, when a young Midwestern woman landed a job at The New Yorker, she didn t expect to stay long at the reception desk. But stay she did, and for twenty-one years she had the best seat in the house. In addition to taking messages, she ran interference for jealous wives checking on adulterous husbands, drank with famous writers at famous watering holes throughout bohemian Greenwich Village, and was seduced, two-timed, and proposed to by a few of the magazine's eccentric luminaries. This memoir of a particular time and place is an enchanting tale of a woman in search of herself.
About the Author
Janet Groth, Emeritus Professor of English at the State University of New York at Plattsburgh, has also taught at Vassar, Brooklyn College, the University of Cincinnati, and Columbia. She was a Fulbright lecturer in Norway and a visiting fellow at Yale and is the author of "Edmund Wilson: A Critic for Our Time" (for which she won the NEMLA Book Award) and coauthor of "Critic in Love: A Romantic Biography of Edmund Wilson". She lives in New York City.
Praise For The Receptionist…
The Atlantic Wire's  "Best Revisitation of a Cultural Icon" in their list of the best books for 2012.
"Are you a New Yorker magazine groupie? Do you wait every week just to laugh at the cartoons and read Talk of the Town? If so, we have a book for you . . . The magazine's eccentricity was not lost on Groth. Lucky for us." —USA Today"An evocative memoir."—People"[Groth's] collected the sort of gossipy anecdotes that would have you hanging on her every word at a literary cocktail party." —Entertainment Weekly"This is not a juicy tell-all – Groth remained an outsider as much as she was an insider at the magazine throughout her tenure, and legendary editor William Shawn stays a shadowy figure on the floor above throughout the book. Instead, she paints a picture of a naive Midwesterner with a mane of thick blond hair coming of age in the 1960s and 1970s, experiencing the era's turbulent politics and sexual revolution, all from behind the receptionist desk."—The Associated Press"A literate, revelatory examination of self."—The Boston Globe"Groth can be charmingly offhanded: anecdotal, gently gossipy . . . The Berryman chapter, one of the first in the book, is also among the finest . . . 'As a poet-teacher,' she recalls, 'he so invested his ego in his work that he was ego-free, a fleshless, selfless lover of enlightenment, pure spirit.' That's a terrific description, evoking not just his classroom style but also the humor and erudition of his poems."—Los Angeles Times"[Groth] is witty, honest, and self-deprecating, without whining, and quite a good role model."—Booklist "Revelatory . . . deeply reflective . . . Groth chronicles the many dazzling personalities whose lives touched, and moved, hers."—Publishers Weekly"An honest and engaging memoir for fans of the magazine and histories of Mad Men-era New York."—Library Journal "A nostalgic, wistful look at life inside one of America's most storied magazines, and the personal and professional limbo of the woman who answered the phone . . . This bookish girl from flyover country who became a Mad Men-era hottie, and who found she had to leave this cozy nest in order to save herself, is very much an interesting character in her own right. For readers who can't get enough New Yorker lore, an amiable view from the inside."—Kirkus Reviews"One of the most buzzed-about books of the summer . . . The Receptionist is a don't-miss memoir of an era, a literary magazine and a fascinating woman."—SheKnows.com"As for the book I'm looking forward to most? That would probably be Janet Groth's memoir, The Receptionist: An Education at The New Yorker. The title pretty much says it all, but Groth encountered some pretty fascinating people during her tenure at the mag, including E.B. White, Charles Addams and Joseph Mitchell. Juicy!"—Pop Candy"Much of the story is envy-inducing..by the end of the book, [Groth] finds her own delightful voice, which is  the book's real pleasure."—Oprah.com"Groth's memoir makes readers feel like she had 'the best seat in the house' as she talks about her role as a greeter to such literary luminaries as J.D. Salinger, Calvin Trillin and E.B. White. If you love The New Yorker—or want to look behind the pages—you will enjoy this book." —Bookreporter.com