The High Divide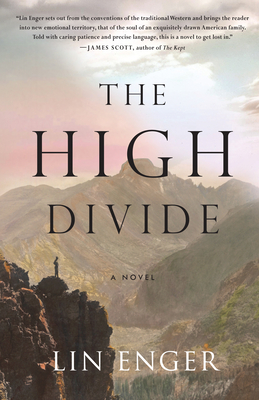 The High Divide
Algonquin Books of Chapel Hill, Hardcover, 9781616203757, 332pp.
Publication Date: September 23, 2014
* Individual store prices may vary.
Buy Now
or
Shop Local
Enter your zip code below to purchase from an indie close to you.
Description
A deeply moving, gripping novel about one man's quest for redemption and his family's determination to learn the truth . . . Layered with meaning, this remarkable novel deserves to be read more than once. "The High Divide" proves Enger's chops as a masterful storyteller. " "Ann Weisgarber, author of" The Promise " In 1886, Gretta Pope wakes one morning to discover that her husband is gone. Ulysses Pope has left his family behind on the far edge of Minnesota's western prairie with only the briefest of notes and no explanation for why he left or where he's headed. It doesn t take long for Gretta's young sons, Eli and Danny, to set off after him, following the scant clues they can find, jumping trains to get where they need to go, and ending up in the rugged badlands of Montana. Gretta has no choice but to search for her sons and her husband, leading her to the doorstep of a woman who seems intent on making Ulysses her own. Meanwhile, the boys find that the closer they come to Ulysses trail, the greater the perils that confront them, until each is faced with a choice about whom he will defend, and who he will become. Enger's breathtaking portrait of the vast plains landscape is matched by the rich expanse of his characters emotional terrain, as pivotal historical events--the bloody turmoil of expansionism, the near total demise of the bison herds, and the subjugation of the Plains Indians--blend seamlessly with the intimate story of a family's sacrifice and devotion. Lin Enger sets out from the conventions of the traditional Western and brings the reader into new emotional territory, that of the soul of an exquisitely drawn American family. Told with caring patience and precise language, "The High Divide" is a novel to get lost in. James Scott, author of "The Kept" "The High Divide, " a novel about a family in peril, is haunting and tense but leavened by considerable warmth and humanity. Lin Enger writes with durable grace about a man's quest for redemption and the human capacity for forgiveness. Benjamin Percy, author of "Red Moon"
About the Author
LIN ENGER is an Iowa Workshop graduate, the author of the novel "Undiscovered Country, "and the recipient of a James Michener Award and a Minnesota State Arts Board Fellowship. His short stories have appeared in "Glimmer Train, Ascent, Great River Review, Wolf Head Quarterly, "and other journals. He teaches at Minnesota State University Moorhead. His website is www.lin-enger.com.