Central Park Rendezvous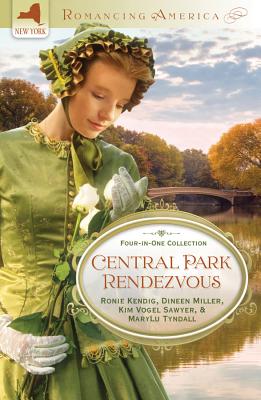 Central Park Rendezvous
Barbour Publishing, Paperback, 9781616265939, 350pp.
Publication Date: August 1, 2012
* Individual store prices may vary.
Buy at Local Store
Enter your zip code below to purchase from an indie close to you.
or
Not Currently Available for Direct Purchase
Description
Welcome to the Big Apple where four generations of heroes find a love that never ends. Home from Afghanistan, Sean Wolfe is avoiding his dreams. Will Jamie Russo and an old coin give him new hope? Once betrayed by love, Alan James is embittered. Will a sweet reunion in Central Park heal his broken heart? Helen Wolfe is struggling to provide for herself and her family. Is Bernie O Day her answer to prayer? Damaged in body and soul by war, William Wolfe's fiancee has rejected him. Will he ever risk his heart again? Will love persevere despite unimaginable odds?
Praise For Central Park Rendezvous…
I gave this book 5/5 stars. I liked the characters in each story. I enjoyed the settings and thought they made each story unique. Each author writes her part of the story very well. They all flow well together. The book itself has a conclusion you will enjoy. I liked the historical aspects in this book as well. If you like Christian historical fiction with a touch of romance, you will enjoy this book!
-Irene Grove

I would recommend this story to anyone interested in some good old fashioned romance! I especially loved the many positive traits of the main characters along with the powerful Christian theme. In one of my favorite stories presented here (To Sing Another Day by Kim Vogel Sawyer) I was reminded of the nuance of Louisa May Alcott and of a Christmas that was about the spirit of the season as opposed to the material aspects of physical gifts; gifts of love and charity are what is important at that time of year. This novel would be a perfect Christmas gift as well as a great book for those needing a little reminder that you need to look at the glass half full. Even though the story unabashedly features faith and God, it does not preach or overdo it which is a feat considering how much the storylines embraced it.  Definitely going on my favorites of 2012 list.
-Marie Burton

The authors did an amazing job of intertwining the stories that must take a lot of talent and planning. Each set of couples I thought was going to be my favorite - Sean and Jamie, Gail and Alan, Helen and Bernie, Permelia and William. I did not want to put the book down and finished it in 2 days. I will admit I was teary eyed a few times. The stories draw you in emotionally. I highly recommend this book.
-Donna Feyen

This is the best Barbour novella collection I have read, both because of the quality of writing of the individual authors, and because of the originality of having four stories so interwoven that story one is actually told in four parts, yet manages to fit into the whole, and all centred around a reunion in Central Park. An excellent beach read. 
-Christian Book Reviews