You Need Help!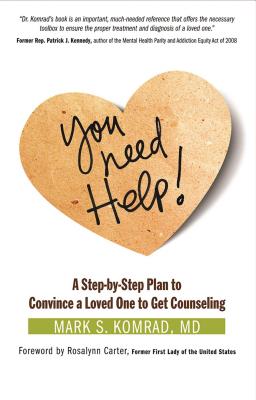 You Need Help!
A Step-By-Step Plan to Convince a Loved One to Get Counseling
Hazelden Publishing & Educational Services, Paperback, 9781616491482, 265pp.
Publication Date: August 2012
* Individual store prices may vary.
Buy Now
or
Shop Local
Enter your zip code below to purchase from an indie close to you.
Description
Just about everyone knows a relative, friend, or coworker who is exhibiting signs of emotional or behavioral turmoil. Yet figuring out how to reach out to that person can feel insurmountable. We know it is the right thing to do, yet many of us hesitate to take action out of fear of conflict, hurt feelings, or damaging the relationship.
Through a rich combination of user-friendly tools and real-life stories, Mark S. Komrad, MD, offers step-by-step guidance and support as you take the courageous step of helping a friend who might not even recognize that he or she is in need. He guides you in developing a strong course of action, starting by determining when professional help is needed, then moves you through the steps of picking the right time, making the first approach, gathering allies, selecting the right professional, and supporting friends or relatives as they go through the necessary therapeutic process to resolve their problems. Included are scripts based on Komrad's work with his own patients, designed to help you anticipate next steps and arm you with the tools to respond constructively and compassionately.
You will also find the guidance and information needed to understand mental illness and get past the stigma still associated with it, so you can engage and support your loved one with insight and compassion in his or her journey toward emotional stability and health.

About the Author


Carter has been a driving force in the field of mental health throughout her public service career.
Praise For You Need Help!…
Helping someone to get a proper assessment by meeting with a mental health professional is vital, even blessed work. I believe this book can help you do that work."
Rosalynn Carter, former First Lady of the United States

My family did a fantastic job with handling the challenge of being
related to me, but I think it would have made their burden much lighter
if they had had a book like this."
Carrie Fisher, author and actress

Dr. Komrad's book is an important, much-needed reference for those
seeking to build a life of recovery. In this books he offers the necessary
toolbox to protect loved ones from the burden and suffering of mental
health illnesses and to ensure proper treatment and diagnosis."
Patrick J. Kennedy, former member of Congress, author of the Mental Health Parity & Addiction Equity Act of 2008, Co-founder of One Mind for Research.


"You Need Help is clearly on-target in answering the question that repeatedly surfaces during our contacts with hundreds of people who are desperately seeking to help a relative or close friend suffering from an apparent mental illness. Far too often we are told of someone's loved one who struggles with frightening erratic feelings or behaviors and has rejected seeing a mental health professional for diagnosis, claiming that I'm not sick, you are!".

Against the backdrop of out-of-control emotions, the family frequently experiences the chilling and paralyzing fear of threatened or imminent suicide, should they intervene with expectations for psychiatric care. And so it was heartwarming to read through the contents of You Need Help" which is replete with descriptive examples and step-by-step suggestions offering a rich, thorough and caring guide of options available to caregivers. The reader is empowered and informed on several pathways leading to competent care.

This book will be included on our recommended resource list for both its thoroughness in providing critical answers and also for its message of hope for families and sufferers of a mental illness. Dr. Komrad's Hippocrates quotation, diagnosis is half the cure" is both relevant and exquisitely timeless."
-Diane and Jim Hall, NAMI and NEA.BPD Family Educators

How do I get my child, spouse/friend to see someone? This is the most
common question psychiatrists hear from families. I recommend this
book to all of you in this predicament."
J. Raymond DePaulo, Jr., MD, Henry Phipps Professor and director,Department of Psychiatry and Behavioral Sciences, The Johns Hopkins Hospital.

This is an authoritative and smart guide for the perplexed in need of
care written by an experienced clinician and teacher."
Steven S. Sharfstein, MD, clinical professor of Psychiatry at the University of Maryland