Almost Alcoholic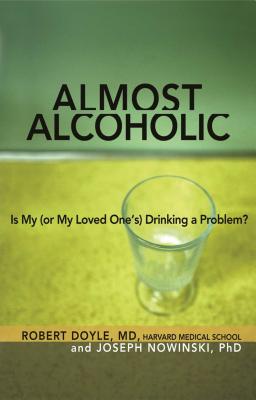 Almost Alcoholic
Is My (or My Loved One's) Drinking a Problem?
Hazelden Publishing & Educational Services, Paperback, 9781616491598, 250pp.
Publication Date: March 27, 2012
* Individual store prices may vary.
Buy at Local Store
Enter your zip code below to purchase from an indie close to you.
or
Buy Here
Description
Every day, millions of people drink a beer or two while watching a game, shake a cocktail at a party with friends, or enjoy a glass of wine with a good meal. For more than 30 percent of these drinkers, alcohol has begun to have a negative impact on their everyday lives. Yet, only a small number are true alcoholics--people who have completely lost control over their drinking and who need alcohol to function. The great majority are what Dr. Doyle and Dr. Nowinski call "Almost Alcoholics," a growing number of people whose excessive drinking contributes to a variety of problems in their lives.
In "Almost Alcoholic, " Dr. Doyle and Dr. Nowinski give the facts and guidance needed to address this often unrecognized and devastating condition. They provide the tools toidentify and assess your patterns of alcohol use;evaluate its impact on your relationships, work, and personal well-being;develop strategies and goals for changing the amount and frequency of alcohol use;measure the results of applying these strategies; andmake informed decisions about your next steps.
About the Author
Dr. Nowinski is an associate adjunct professor of psychology at the University of Connecticut. He was formerly an assistant professor of psychiatry at the University of California, San Francisco, where he was director of clinical services and training for the human sexuality program. In that capacity Dr. Nowinski worked intensively with men, women, and couples on the most intimate aspects of relationships. This work also led to two books. Men, Love, and Sex (Thorsons Publishing Group, 1990) was originally published as Becoming Satisfied: A Man's Guide to Sexual Fulfillment by Prentice-Hall in 1980. A Lifelong Love Affair: Keeping Sexual Desire Alive in Your Relationship was published as a hardcover by Dodd, Mead in 1988, and in 1989 as a paperback by W. W. Norton.


Praise For Almost Alcoholic…
The stories in Almost Alcoholic are so powerful. I just loved this book!"
—Jeanne Segal, PhD, psychologist and founder of HelpGuide.org


"Insightful and self-reflective, Almost Alcoholic provides readers with an important opportunity to look within and consider the nature of their own relationship with alcohol."
—Ryan M. Travia, M.Ed., Harvard University Health Services


"A stunning achievement. Almost Alcoholic shines light on behavior that has thus far largely escaped scrutinynamely drinking that is definitely causing problems even though it doesn't rise to a diagnostic leveland not only helps individuals understand the costs of their drinking but goes further, offering practical advice and solutions for those so afflicted."
—J.Wesley Boyd, MD, PhD
Staff Psychiatrist, Cambridge Health Alliance and Children's Hospital Boston
Assistant Clinical Professor of Psychiatry, Harvard Medical School


The Almost Effect Series of books captures the fundamentally hum experiences and helps readers interpret what the symptoms might meanboth for themselves and others. The Almost Effect collection should be required reading for those interested in psychology and human behavior."
—Howard J. Shaffer, PhD,
Associate Professor at Harvard Medical School,
Director of the Division on Addiction at the Cambridge Health Alliance
Co-author; Change Your Gambling, Change Your Life