These Dark Things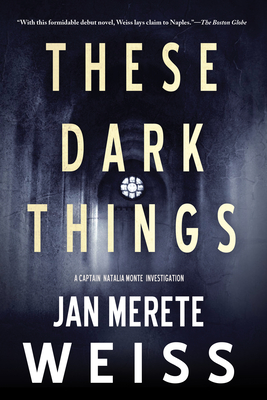 These Dark Things
Soho Crime, Paperback, 9781616950767, 217pp.
Publication Date: May 8, 2012
* Individual store prices may vary.
Buy at Local Store
Enter your zip code below to purchase from an indie close to you.
or
Buy Here
Description
When a beautiful college student is found murdered in the catacombs beneath a monastery, Captain Natalia Monte of the Carabinieri is assigned to investigate. Could the killer be a professor the student had been sleeping with? A blind monk who loved her? Or perhaps a member of the brutal Napali criminal organization, the Camorra? As Natalia pursues her investigation, the crime families of Naples go to war over garbage-hauling contracts; and all across the city heaps of trash pile up, uncollected. When one of Natalia's childhood friends is caught up in the violence, her loyalties are tested, and each move she makes threatens her own life and the lives of those she loves.
About the Author
Jan Merete Weiss grew up in Puerto Rico.She studied poetry and painting at the Massachusetts College of Art and received a Master's degree from NYU. Her poems have appeared in various literary magazines.She lives in New York and lectures at Lehman College. From the Hardcover edition."
Praise For These Dark Things…
"The most appealing element in this distinctive first is the fascinating contradictions between modern Naples, Italy, and its medieval past that Merete Weiss knits into an original mystery…. Even Captain Natalia Monte of the Carabinieri and her Buddhist partner are intriguing opposites in their temperaments and their approaches to an investigation." —Charlotte Observer

"Where better to set a noir police procedural than in streets awash in uncollected trash, against a backdrop of smoke rising from Vesuvius? ... Donna Leon owns Venice, and David Hewson rules Rome. With this formidable debut novel, Weiss lays claim to Naples."—Boston Globe

"When Jan Merete Weiss's Captain Natalia Monte investigates the murder of a beautiful young university student, she must thread an uneasy path between childhood loyalties, religious superstition, corrupt officials, growing piles of garbage, and warring factions of an entrenched Camorra, a criminal organization that predates the better-known Mafia.  Weiss has done her homework, walked the pestilent streets, prowled the catacombs below the city, and created a thoroughly human woman who will do what she must to protect her part of a city that both enchants and infuriates her."—Margaret Maron, author of The Deborah Knott Series

"Naples may be a city of charm and history, but it festers with crime, whether individual or organized. And it forms the backdrop for Jan Merete Weiss' absorbing debut novel.... Weiss invests her debut with a plot replete with shocks, her characters—even the minor ones—are drawn with care and come alive as complete beings on the page, and her vivid portrayal of Naples, in its glory and its gloom, is unforgettable.... These Dark Things tells a dark story and marks the beginning of what promises to be a bright series."—Richmond Times-Dispatch

"[F]ull of intriguing contradictions and cultural clashes between modern Naples and its past, and Merete Weiss confidently weaves them into this distinctive mystery."—Milwaukee Journal-Sentinel

"The most intriguing aspect of this appealing debut is the female perspective it offers on the Neapolitan criminal underworld, both from Natalia's side as a Carabinieri officer and from the points of view of the women who work for the Camorra. Full of vibrant descriptions of Naples and boasting a solid mystery plot, These Dark Things heralds the arrival of a most promising series. Recommend it, in particular, to fans of Michael Genelin's Jana Matinova series."—Booklist

"Just when we thought all the possible plots had been taken, Weiss brings us a new police procedural set in Naples, Italy, that taxes the brain and gives us pause for the future of society… Natalia's a favorite type of heroine because she's no saint herself, so dig in and prepare to be riveted by this intense and violent read. VERDICT: Natalia represents a new era in Italian culture in which women can operate effectively as authority figures. For all readers who love a complex story fraught with tough decisions about friendship, family loyalties, and justice."—Library Journal

"Absorbing. . . . The corruption of the Neapolitan bureaucracy, mirrored by the stench from uncollected garbage in the streets, taints but cannot overcome the vitality of the city. Weiss renders its bustling trattorias and colorful neighborhoods with flair."—Publishers Weekly