Pale Horses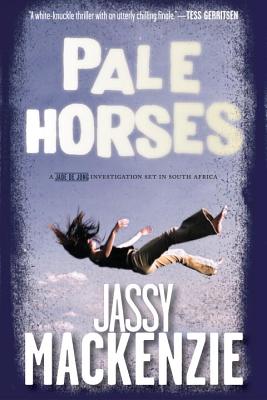 Pale Horses
Soho Crime, Hardcover, 9781616952211, 297pp.
Publication Date: April 16, 2013
* Individual store prices may vary.
Buy at Local Store
Enter your zip code below to purchase from an indie close to you.
or
Not Currently Available for Direct Purchase
Description
Book 4 in the PI Jade de Jong thriller series set in South Africa
Johannesburg, South Africa: At first, the case appears to be one of simple misadventure. Sonet Meintjies, a base jumper, falls to her death while attempting to parachute off a newly built sixty-five-story skyscraper. But Sonet's jumping partner insists that this was no accident, and he hires private investigator Jade de Jong to uncover the truth.
Jade discovers that Sonet worked for a charity that helped impoverished communities become self-supporting farming units. When Jade travels out to the community farm in Limpopo, she finds it not just abandoned but razed to the ground. Digging deeper for answers about where the residents went, Jade learns about a fatal but unidentified disease that swept through the entire community. A deadly harvest has been gathered, and the person who knows the real truth about it has been forced to become collateral in its trade.
About the Author
Jassy Mackenzie was born in Rhodesia (now Zimbabwe) and moved to South Africa when she was eight years old. She lives with her partner Dion, and two horses and two cats. She enjoys traveling, cooking, cycling, and competes in dressage on her thoroughbred. She also loves the energy, danger and excitement of Johannesburg, believing there is no better place for a thriller writer to be, and wishes to share its 'terrifying, exhilarating, essence with readers across the world'. From a book-loving family where TV was banned from the house, she is the second youngest of five daughters. Her mother Ann Mackenzie was a well-known short story writer, and Jassy's sister, Vicky Jones, now living in New Zealand, is a prize-winning author of children's books. As a youngster, Jassy seemingly had an uncanny knack of choosing unsavoury boyfriends who were involved in everything from cocaine dealing to smuggling. Then, she was hijacked at gunpoint outside her home, and had her car taken from her by force. This experience led to her first novel: 'Random Violence'. She has since written several more thrillers, a 'Jade De Jong' detective series, and erotic romances. Combining her writing career with editing a 'Hair and Beauty' trade magazine, Jassy has also had numerous non-fiction articles on a wide variety of subjects published locally, and internationally, over the years.
Praise For Pale Horses…
Praise for Pale Horses

"[Jade de Jong] is tough as nails and persistent, despite the fact that every clue leads to a dark and twisted place…. Pale Horses is sure to appeal to fans of Liza Marklund, Zoe Sharp, and Mackenzie's fellow South African crime writer Deon Meyer."
—Booklist, STARRED Review

"Gripping.... The novel hurtles toward a devastating climax."
—Publishers Weekly

"Mackenzie's shrewd plotting is enlivened by her sharp eye for both Johannesburg's high life and its desperate poverty."
—The Seattle Times

"A terrifying ride into a world of corporate greed, potential terrorism and the ways that South Africa's future still resonates with its brutal past .... Mackenzie, who writes with chilly fervor, plunges the reader into a nightmare world that nonetheless offers the possibility of redemption."
—Richmond Times Dispatch

"Pale Horses is top notch crime fiction at its best.... A Terrific adventure with intrigue and a beautifully plotted mystery."
—Crimespree Magazine

"Stands up well to a comparison with the better known books of Deon Meyer...an excellent addition to the ever expanding sub genre of South African crime fiction."
—Crimescraps

"Jade de Jong is one tough lady, one of the most fascinating protagonists around. She is flawed, emotionally fragile, yet tough as nails.... Like the previous books, [Pale Horses] is full of colorful, well-drawn characters, colorful details of life in South Africa, and is a thumping great story."
—Over my Dead Body

"A solid thriller.... South Africa becomes a silent character that somehow speaks volumes about itself through the author's description."
—Out of the Gutter

Praise for the Jade de Jong series
 
"A white-knuckle thriller with an utterly chilling finale."
—Tess Gerritsen, author of the Rizzoli & Isles series
 
"Jade de Jong is a heroine to cherish: tough, passionate, and packed with enough flaws to keep her interesting."
—Sophie Littlefield, author of A Bad Day for Sorry
 
"Remarkable."
—The New York Times Book Review

"Enticing.... With mysteries being such a male-dominated genre, Mackenzie's series, and main character, is a welcome breath of fresh air."
—The Examiner
Monday, Sep 2, 2013
Jassy Mackenzie's crime novels, set in Johannesburg, star the not-always-law-abiding private investigator Jade de Jong. Mackenzie says that de Jong and "Joburg" are well-matched: both the P.I. and her hometown are intimidating on the outside, but kind once you look beyond the surface. More at NPR.org