The Ghosts of Belfast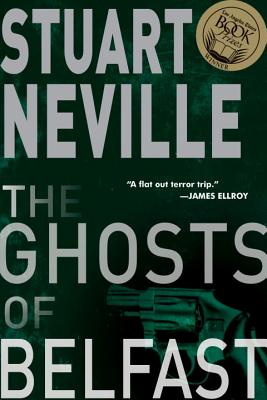 The Ghosts of Belfast
Soho Crime, Paperback, 9781616952419, 326pp.
Publication Date: July 3, 2012
* Individual store prices may vary.
Buy at Local Store
Enter your zip code below to purchase from an indie close to you.
or
Not Currently Available for Direct Purchase
Description
Fegan has been a "hard man," an IRA killer in northern Ireland. Now that peace has come, he is being haunted day and night by twelve ghosts: a mother and infant, a schoolboy, a butcher, an RUC constable, and seven other of his innocent victims. In order to appease them, he's going to have to kill the men who gave him orders.
About the Author
Stuart Neville is a partner in a multimedia design business based in Armagh, northern Ireland. This novel, also known as The Twelve in the UK and Ireland, is the first in a series.
Praise For The Ghosts of Belfast…
"Not only one of the finest thriller debuts of the last ten years, but also one of the best Irish novels, in any genre, of recent times."
—John Connolly

"Neville's novel is a coldly lucid assessment of the fragility of the Irish peace … a rare example of legitimate noir fiction."
—The New York Times Book Review
 
"Perfect for summer—especially if you want to be reminded of what a blessing it is to live in relatively peaceful times."
—Slate

"The best first novel I've read in years…. It's a flat-out terror trip."
—James Ellroy

"The Ghosts of Belfast is a smart and atmospheric thriller about the many causes served and corrupt pockets lined courtesy of sectarian hatred."
—Maureen Corrigan, NPR.org

"Stuart Neville is Ireland's answer to Henning Mankell."
—Ken Bruen

"Stuart Neville's tightly wound, emotionally resonant account of an ex-IRA hit man's struggle to conquer his past, displays an acute understanding of the true state of Northern Ireland, still under the thumb of decades of violence and terrorism."
—Los Angeles Times

"Both a fine novel and a gripping thriller: truly this is a magnificent debut."
—Ruth Dudley Edwards, author of Ten Lords-A-Leaping
 
"Stuart Neville goes to the heart of the perversity of paramilitarism."
—Sean O'Callaghan, author of The Informer

"An astonishing debut. Brilliantly conceived, masterfully written, Stuart Neville's The Ghosts of Belfast is both a heart-pounding thriller and a stunning examination of responsibility and revenge. He is going to be a major new voice in suspense fiction."
—Jeff Abbott
 
"Stuart Neville will go far as a writer . . .  It's a wonderful novel, brave and fierce and true to its place and time. I sincerely hope it sells a million copies."
—Crimespree

"Stuart Neville belongs to a younger generation of writers for whom the region's darkest years are history—but that history endures, as his first novel, The Ghosts of Belfast, shockingly demonstrates…. This noir thriller plays out in a Belfast that, even in summer sunshine, remains oppressively gray. The clannishness of its inhabitants is vividly evoked in Neville's descriptions of a tiny rowhouse packed with mourners for a murdered man's wake or a seedy pub where the bartender has learned to look the other way when violence arrives. A riot scene, one of the novel's best, captures a new generation's appetite for blood and an old veteran's nostalgia…. In scene after gruesome scene, Neville attempts to persuade us that this time around, with this repentant murderer, the killing is different."
—Washington Post

"Neville's debut is as unrelenting as Fegan's ghosts, pulling no punches as it describes the brutality of Ireland's 'troubles' and the crime that has followed, as violent men find new outlets for their skills. Sharp prose places readers in this pitiless place and holds them there. Harsh and unrelenting crime fiction, masterfully done."
—Kirkus Reviews, Starred Review
 
"[A] stunning debut.... This is not only an action-packed, visceral thriller but also an insightful insider's glimpse into the complex political machinations and networks that maintain the uneasy truce in Northern Ireland."
—Publishers Weekly, Starred Review
 
"In this well-crafted and intriguing series debut, Neville evokes the terrors of living in Belfast during 'the Troubles' and manages to makes Fegan, a murderer many times over, a sympathetic character…The buzz around this novel is well deserved and readers will be anticipating the next book in the series."
—Library Journal, Starred Review
                                                                                                                                                                                         
"Explosive and absorbing ... The Ghosts of Belfast is an intense meditation on obligation, necessity, and war. Within Stuart Neville's rich vocabulary, complacency is not a word to be found."
—Sacramento News and Review

"The Ghosts of Belfast is a tale of revenge and reconciliation shrouded in a bloody original crime thriller.... Fierce dialogue and the stark political realities of a Northern Ireland recovering from the 'Troubles' drive this novel. It's not difficult to read this brilliant book as an allegory for a brutal past that must be confronted so the present 'can be clean.'"
—Milwaukee Journal Sentinel

"In his stunning debut, Stuart Neville delivers an inspired, gritty view of how violence's aftermath lasts for years and the toll it takes on each person involved. The Ghosts of Belfast also insightfully delves into Irish politics, the uneasy truce in Northern Ireland, redemption, guilt and responsibility ... Neville delivers an emotionally packed novel that is both empathetic and savage. Neville never makes Gerry's visions of ghosts seem trite or silly. Like his countryman, John Connolly, Neville keeps the supernatural aspects believable ... The Ghosts of Belfast is a haunting debut."
—South Florida Sun-Sentinel

"If you by chance have never read Stuart Neville's Belfast Trilogy, it's time to redeem yourself."
—Grift Magazine

"A brilliant thriller: unbearably tense, stomach churningly frightening … a future classic of its time."
—The Observer

"Stuart Neville's blistering debut thriller is a walk on the wild side of post-conflict Northern Ireland that brilliantly exposes the suffering still lurking beneath the surface of reconciliation and the hypocrisies that sustain the peace."
—Metro (UK)

"Neville has the talent to believably blend the tropes of the crime novel and those of a horror, in the process creating a page-turning thriller akin to a collaboration between John Connolly and Stephen King."
—Sunday Independent (Ireland)

"A gripping, original thriller."
—Sunday Times

"[Neville] is … uniquely, tragically equipped to be able to think through complex issues of justice and mercy."
—Irish Times