The Fear Artist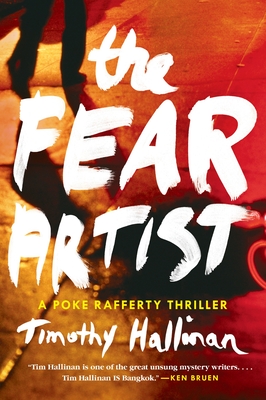 The Fear Artist
Soho Crime, Paperback, 9781616952556, 342pp.
Publication Date: June 18, 2013
* Individual store prices may vary.
Buy at Local Store
Enter your zip code below to purchase from an indie close to you.
or
Not Currently Available for Direct Purchase
Description
"Edgar-finalist Hallinan's heartrending, unforgettable fifth Poke Rafferty thriller" ("Publishers Weekly "starred review) set in Thailand comes to Soho Crime
An accidental collision on a Bangkok sidewalk goes very wrong when the man who ran into Rafferty dies in his arms, but not before saying three words: "Helen Eckersley. Cheyenne." Seconds later, the police arrive, denying that the man was shot. That night, Rafferty is interrogated by Thai secret agents who demand to know what the dead man said, but Rafferty can't remember. When he's finally released, Rafferty arrives home to find that his apartment has been ransacked. In the days that follow, he realizes he's under surveillance. The second time men in uniform show up at his door, he manages to escape the building and begins a new life as a fugitive. As he learns more about his situation, it becomes apparent that he's been caught on the margins of the war on terror, and that his opponent is a virtuoso artist whose medium is fear.
"From the Hardcover edition.
About the Author
Timothy Hallinan is the author of nine widely praised books: eight novels including the Bangkok thrillers featuring Poke Rafferty and a work of nonfiction. Along with his wife, Munyin Choy, he divides his time equally between Los Angeles, California, and Southeast Asia.
Praise For The Fear Artist…
Praise for The Fear Artist

Voted one of Deadly Pleasures Magazine's "Best Mystery-Crime Novels of 2012."

"At the start of Edgar-finalist Hallinan's heartrending, unforgettable fifth Poke Rafferty thriller (after 2010's The Queen of Patpong), travel writer Rafferty collides with an overweight man around 65, possibly a German or American, on a wet Bangkok street. The man, whose head is oddly sunburned, manages to say a woman's name before expiring from multiple gunshots. When the cops at the scene insist the man wasn't shot, Rafferty knows he's headed for trouble. Forced to betray his best friend, Rafferty turns for help to leftover cold war spooks from the other side as he uncovers evidence that the Pentagon has resurrected the Phoenix Program, which the U.S. used in Vietnam, to counter Muslim terrorists in southern Thailand. Hallinan gives his readers, who should be prepared for gruesome torture scenes, no chance to escape from his somber conviction that what America has become by pursuing the war on terror was never what America was supposed to be."
—Publishers Weekly, STARRED REVIEW

"Stellar."
—Library Journal, STARRED REVIEW

"The volcanic American sadist is the author's best yet… Simply the best of a fine series of thrillers set in one of the world's most exotic locales."
—Booklist, STARRED REVIEW

"Hallinan not only writes a relentless-as-the-rain paced thriller, sprinkled with an off-beat, cynical humor, but the poignant emotional sides of the characters and the intelligent and beautiful plot and storytelling soak the reader's heart to the skin. The social issues, starkly and honestly portraying the exploitation of women and children will haunt you.... This is literary fiction of the first order told in the form of an elegant and intricate thriller."
—Seattle PI

"Must-read crime fiction."
—Mystery Scene

"[The Fear Artist] presents a view of Thailand's underbelly that few visitors ever see." —Contra Costa Times

"Hallinan seems almost incapable of writing badly, and his Poke Rafferty series has been a personal favorite of mine from its inception. However, THE FEAR ARTIST sets an entirely new standard for the author against which his future efforts will be judged."
—BookReporter

"Just put Timothy Hallinan's Poke Rafferty novel The Fear Artist way high on my top 10 thrillers list. Violent, gritty, & moving."
—Nancy Pearl (via Twitter)

"A well-told tale, and one that is recommended." 
—Midwest Book Review

"Papa Hemingway used to say, "Write about what you know." Hallinan does a hell of a job following his advice."
—Criminal Element

"Absolutely the best book in the series."
—Murder On Demand

"If I gave stars, THE FEAR ARTIST would get ten."
—Murder By Type

Praise for The Queen of Patpong
 
"Taut, offbeat and fast-moving.... Hallinan's unlikely hero shines in this sometimes funny, always engrossing and undeniably authentic story that explores a dark and fascinating side of Thailand."
—Kirkus Reviews, Starred Review
 
"Riveting, genuinely, moving, and entirely plausible.... A terrific page-turner."
—Booklist, Starred Review
 
"You won't read a better thriller this year!"
—John Lescroart, New York Times–bestselling author of Treasure Hunt